Are you planning to buy a mattress and strictly looking for options within the budget category? The price will a limiting factor to shortlist the best mattresses under 200.
Today we will strategically drop some features which are not essential. When the budget is a constraint, you need smart advice. You will save money without owning a compromising product.
Ready to Stretch the Budget? Check out our list of mattress under $500 and mattress under $1000.
Know your Mattress Size?
As you are aware, the bigger the mattress size more will be the cost. In our survey, we came to the conclusion that there are two sizes that are more in demand especially in this price bracket.
The two sizes that are the highest sellers are full size and queen mattress sets. The guest room or Kid's room can be accommodated with a twin mattress.
Looking for budget king size mattress? We have already written about the best and cheapest king size mattresses. Do check it out.
Know your Mattress Type?
Understand what makes your sleep comfortable. The mattress is one of the most important factors. Being on a wrong mattress can lead to a sore back and unfulfilling sleep.
Pick up a mattress type like innerspring, memory foam, hybrid, etc. which is more suited to your needs. A memory foam mattress may not be a perfect choice if you like some bounce in your bed. Are you already using a memory foam mattress? Selecting an innerspring mattress should be a conscious decision.
List of Best Mattresses Under 200
Linenspa 8 Inch Hybrid Mattress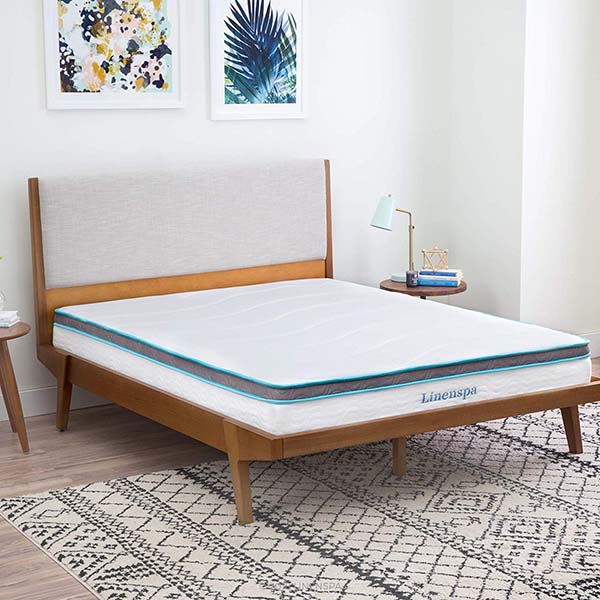 This Linenspa with a hybrid design has many takers. The base of the 8-inch mattress has tempered coils. Its top layer is made up of memory foam.
It is medium-firm and should suit all types of sleepers.
The foam is certified and hence free from any hazardous materials. The mattress cover is knit in design and soft in feel.
It is compressed and delivered in a box. It can be easily carried to any room and unrolled.
The hybrid combination of memory foam and innerspring is exemplary. The innerspring provides bounce and support to the spine. The memory foam relieves pressure from the shoulder and hip region.
The Linenspa comes with a 10-year warranty.
Why buy this mattress?
A hybrid mattress is a goto option for the consumer who prefers traditional innerspring mattresses. It takes care of all the pain points of traditional innerspring mattresses.
It is a medium-firm mattress with good edge support. The firmness and the entire experience will cater to the majority of sleepers.
It is one of the best sellers in this price segment.
Olee Sleep 10-inch Gel-based Memory Foam Mattress
Hello, hot sleepers! the thought of a memory foam mattress can raise a question who wakes up in the middle of the night all sweaty.
The Olee Sleep mattress is designed with high-density foam as the base and convoluted foam.
A layer of gel-infused memory foam on the top makes all the difference. It helps to dissipate heat from the body and keep your body cool.
The gel along with the breathable cover works well in regulating the temperature.
The memory foam conforms to body shape and supports the curves. You will wake up stress and pain-free.
The mattress is medium-firm in feel. It scores well on motion isolation so that you can toss, turn and come in/out of bed without disturbing your partner.
The mattress cover is a unique knitted design with a blue base. With 93% polyester and 7% spandex, it provides good air-flow.
Why buy this mattress?
The highlight of this mattress is its price and cooling feature. In our review, the gel-infused layer and cover do a great job.
With all the discounts added, the mattress price is well within your price bracket. The mattress is a good bet for budget shoppers.
Ashley Furniture Signature – 10-inch Memory Foam Mattress
The Ashley memory foam mattress is available in three thicknesses. We have selected 10 inches mattress but if you are keen on saving more, opt for 8 inches mattress.
The extra 2 inches you are paying adds an extra comfort factor. We feel 10 inches mattress is worth the extra $50 you pay.
This is a full-size bed in a box mattress. The cover is made up of hypoallergenic materials. It is best suited for people including kids who are prone to allergies. It keeps seasonal pollens, dust mites, mold, etc away.
The cover is breathable and of premium quality with knit design.
It comprises of 3 layers of foams. The core of the mattress is a 7-inch high-density polyurethane. It ensures and supports spine alignment.
The middle is a 1.5″ transition layer for additional comfort and support.
The top layer of the mattress is 1.5″ memory foam. It effectively contours to your body and provides good pressure relief around your shoulders and hip area.
The mattress is compressed and shipped in a box. Unroll the mattress and it takes its full shape in 2 to 3 days. Although it gains its 70-80% of thickness in a couple of hours.
It is compatible with all forms of bases and frames. including mattress on the floor.
The firmness of this full-size mattress is medium-firm to slightly firm. You won't find it hurting in any way. Most of the owners are happy with the support and comfort it provides.
Why buy this mattress?
The look and feel of the mattress surpass your expectation although it is priced quite cheaply. The first look of the mattress is premium, thanks to the knit design cover.
It is a 10-inch mattress capable of providing good support and comfort. Most of the mattresses in this price range are 6 to 8 inches.
Although it does not come with any certifications, the cover is hypoallergenic.
LUCID 5 Inch Gel Memory Foam Mattress
This product is well suited for the price-conscious consumer. One of the most affordable mattresses on our list.
It is a dual-layered mattress with some noticeable features at such a discounted price. You want to buy a good with a couple of good features without breaking your bank. This is a perfect candidate.
The mattress has two layers. The top layer as the name suggests is a gel-based memory foam layer. It is 1″ thick with open-cell structure. It is quite ventilated, durable and long-lasting. With gel-based memory foam, your sleep will be much cooler without any heat retention issues.
The base layer is 4″ foam. It supports your back and provides firmness.
This lucid is firm in feel and yet comfortable. The reader searching for a softer mattress can give it a pass.
The lucid has managed to provide foams with CertiPUR-US certifications. Looking at the price, it is applaudable. It doesn't end here. They have topped it up with a 10-year warranty.
Why buy this mattress?
Buy this mattress because it provides value for every dollar spent. All foams are certified with a 10-year warranty.
The lucid is known in online space for some good products. This has been carefully designed and priced.
A queen size mattress capable of providing above-average support and comfort. All at a price point which will make your order right now!
LUCID 10-inch Gel-based Memory Foam Mattress
The mattress is 10 inches gel-based memory foam. We have featured another Lucid mattress in the list for its extreme value for money proposition. It is priced quite lesser than this mattress.
It is again a two-layered mattress with 2.5″ gel memory foam and 7.5″ high-density foam. It acts as a base that provides ample support.
The gel memory foam provides cooler sleep by preventing heat retention. It has an open-cell structure and ventilated design which helps in airflow.
The thickness of memory foam is sufficient to provide pressure relief around the shoulder and waist area.
The cover of the mattress is breathable and made up of TENCEL blend fabric instead of the usual 100% polyester. It is 90% polyester and 10% Tencel lyocell. The Tencel lyocell adds an air-flow property to the cover.
The mattress is compressed and is delivered wrapped in a box.
It comes with a 10-year warranty and is CertiPUR-US certified.
The firmness level in our reviews is rated as a medium-firm. It should suit most of the sleeper types.
Why buy this mattress?
Buy this mattress for its comfort and for its reasonable price. There is no compromise on the thickness of the mattress which is a key factor in provided comfort feel. The gel memory foam is effective and does provide relief to hot sleepers.
It comes with a mental peace of 10-year warranty and certification. There is a surety of no harmful materials used in the mattress.
Signature Sleep 8-inch Encased Coil Mattress
This might cross the threshold limit of your budget depending on which month you are buying. It may cross by $8 to $10 but it is worthy and should be in consideration for purchase. Use an amazon visa reward card for an extra discount.
There are quite a few chances that you will end up buying if you are looking for something firmer.
It is a reversible mattress by design. You can flip and rotate the mattress for even wear thereby increasing longevity.
It has 7 inch encased coils of 15 gauge. It helps in a good distribution of weight by contouring the curves of the body.
The top and bottom of the mattress have a high-density foam layer. It protects you to feel any reverse tension from the coils.
The foam is low in VOC emission and is made without any heavy metals or any hazardous materials.
The cover is non-removable.
It is rolled and shipped in a box. It regains its actual form within a few hours.
The mattress is recommended for sleepers who are looking for a comfortable firm mattress with some bounce.
Why buy this mattress?
Buy this mattress for a kid's room or for someone whose body is more aligned for a firm mattress. It is a good combination of the firm as well as comfort.
Vibe 12-Inch Gel Memory Foam Mattress
The product is from Classic Brands. The 12-inch mattress catches your eye on this list as well as in the room.
This vibe model from Classic Brands is 3 layered mattress.
The top layers are 2 inches of gel memory foam and 3 inches of the gel comfort layer. The base of the mattress is 7 inches of high-density foam.
The base offers amazing support to the spine. The combination of both the gel layers in dissipating the heat evenly and easily. It results in a super comfy and cooler sleep. It means no tossing and turning while you complete your restful sleep in the night.
The memory foam makes you feel "sink in" without going deep or preventing you from moving in the bed. It shapes itself to the contours of the body.
The mattress is a bed in a box, rolled and compressed before shipping. It is adjustable on all types of platforms.
Why buy this mattress?
Vibe mattress is an attempt to provide an affordable solution as compared to other expensive mattresses. It is a world designed without compromising features and comfort.
It comes with a stress-free 10-year warranty.
Zinus 8-inch Gel-Infused Green Tea Memory Foam Mattress
This goes out of stock on Amazon more than often. The green tea memory foam mattress is available on 6,8,10 and 12 inches. We are recommending 8″ queen size mattress. The price difference between 6 inches and the 8-inch mattresses is a few dollars. Hence you will always find the 8-inch option out of stock.
The mattress has three layers. The top layer is 2-inch gel-infused memory foam followed by 1.5-inch comfort foam. The base of the mattress is 4.5-inch high-density foam with air-flow.
The memory foam is infused with natural green tea extracts and active charcoal particles. It helps in absorbing unwanted odor and moisture.
The gel infusion in the mattress helps in keeping the body cooler in the night. The high-density base foam provides support and keeps the spine aligned.
The foams are CertiPUR-US certified for emissions and durability.
The mattress is compressed, rolled and shipped in a box for convenient delivery to your rooms.
The fabric of the cover has a premium look and is made up of knitted jacquard.
Why buy this mattress?
One of the hot sellers by Zinus for its cooler feel due to gel and green tea extracts. The mattress has a firm feel as compared to regular memory foam mattresses.
Zinus Ultima Comfort 8 Inch Spring Mattress
The innerspring mattress by Zinus is an 8″ ultima comfort. The mattress has an iCoil system with 7.5″ iCoil pocketed springs. These pocketed springs help in reducing motion transfer from the co-sleeper.
It also provides support and maintains spinal alignment.
The coils have a comfort foam layer over it. Over the top of the comfort layer, is a micro-fiber quilted layer of fabric.
The plush cover is knitted jacquard.
The mattress is firm in feel with a slight bounce.
Why buy this mattress?
The mattress is a buy for sleepers who are looking for comfort but firm bed. A regular memory foam bed lacks bounce and sleepers graduating from traditional innerspring mattress finds it difficult to adjust. The mattress is perfect for them.
Inofia 8 Inch Memory Foam Mattress in a Box
Inofia is a three-layer foam mattress in a box. It comes with a breathable cover that allows air-flow thereby helping in dispersing body heat and moisture.
The top layer is the eco memory foam with an open-cell structure. The open-cell foam layer makes the mattress more breathable and further improves heat dissipation. It helps in providing you a cooler sleep.
The middle layer is a smart-comfort foam layer. It adapts to your body structure and helps in relieving the pressure from the shoulders and hip area.
The last layer is the core layer of the mattress. It is an ergonomic support foam that gives the mattress firmness and durability. It has a shock-absorbing and pressure release characteristics. The co-sleeper or your partner can toss and turn freely without disturbing the other partner.
All the foams are CertiPUR-US certified and are eco-friendly. The mattress has a 100-night risk free trial and a 10-year warranty.
Inofia is compressed and shipped in a box. Once it is opened, it takes a couple of hours to be in usable shape. It may take up to 72 hours to fully deflate.
Why buy this mattress?
Inofia has some good features and is a recommendation for people who prefer memory foam mattress. There is no gel memory foam layer but it works well in dissipating heat. Hot sleepers on a budget will prefer this mattress.
The mattress is medium-firm to medium-soft in feel. It provides good comfort and support. The edge support is very average.
Modway Aveline 6-inch Gel-based Memory Foam Mattress
The Modway Aveline range has some good options. but it can be out of your budget if you are opting for bigger sizes and more thicker mattresses.
The Aveline we have selected is 6-inches mattress. A medium thickness of a mattress is way better than an inferior quality thicker mattress.
Aveline's top layer is a memory foam layer infused with gel. It is primarily responsible for a cooler sleep at night. The layer is open-cell, breathable and ventilated. On a hot and humid day, it comes as a breather who sleeps hot.
The responsive base foam forms the last layer. It is a premium polyurethane that provides support. The firmness and support of the mattress are taken care of by this layer.
The cover of the mattress is diamond stretch knit. It gives you closer to a plush feel.
Aveline provides good support in spine alignment. It absorbs pressure from the hip and shoulder areas.
The mattress comes with a 10-year warranty. Both the layers of foam are with CertiPUR-US certification. It has 16 CFR Part 1633, which meets "open flame" flammability requirements. This is applicable if it used with inflammable foundation.
Why buy this mattress?
It is suited for someone who prefers a firm to medium-firm memory foam mattress in an affordable range. The mattress adheres to good quality standards and certifications.
The foams used are of high quality and are expected to last longer than a regular affordable mattress under 200.
Common Issues & How to Avoid
The most common issue with any low priced mattress is that they have a tendency to sag over a period of time. In fact, any cheap mattress under 200 you are buying, the companies tries to cut cost with the quality of material used especially the foam.
The cost-cutting done by the manufacturer is not visible to the naked eye. Most of the consumers will not be able to understand the difference in the quality of foam used.
We generally recommend selecting a firm mattress.
The good quality soft foams are expensive. Inexpensive soft foam will sag when putting under frequent stress.
Save Extra: Vital Tips
The reasons for buying a budget mattress under 200 and 3000 dollars one will be different. There are a few things we want our readers to keep in mind.
A budget mattress is not going to last many years as compared to a mattress costing thousands of dollars. It is a bitter truth and no market gimmick can solve this.
Keep expectations realistic on how long it is going to last.
Always buy your mattress online. A retail store cannot match the variety as well as the price offered online. They have to include the price of running a store as well as profits. Your best saving is buying online.
Save extra with a 25% discount. Use Amazon visa rewards card for payment on Amazon and you are getting an extra $50 discount. That's a whopping 25% saving!
The card is offered free and without any annual fee. Isn't this a deal!
Our Recommendations
We have listed above quite a few options to choose from. All the mattresses are a winner with respective features. Below is our attempt to choose one option in each size type category.
Best Twin Size Mattress under 200
Inofia 8 Inch Memory Foam Mattress in a Box
Best Full-Size Mattress under 200
LUCID 10-inch Gel Memory Foam Mattress
Best Queen Size Mattress under 200
Linenspa 8 Inch Hybrid Mattress
Final Thoughts
We have listed our top mattresses by carefully balancing features vs pricing. The pricing gets more attractive you have an amazon rewards visa card. You get a straight away $50 flat discount. There are no charges or annual fees.
We have listed our recommendations after a thorough comparison. We can assure you it cannot get better than this. Hit the buy button and we are sure you won't regret your purchase.
Happy shopping!