Sleeping on the floor is more prevalent in South Asian countries than in the western part of the world. And slowly the awareness about its benefit has caught the attention of the US and other western countries.
For a lot of us, the thought of a spare bed is always a challenge whenever a friend or two decide to stay overnight. A guest bed or guest room may not be a viable option for a few of us.
You need budget-friendly as well as space-friendly options without losing comfort. The options are many from a foldable mattress for the floor, air mattress for guests and camping or even buy a futon mattress.
A floor mattress is a favorite for a lot of us. It is an option that does not compromise on comfort and good sleep. The floor mattresses are specially designed to serve the purpose. It is any regular mattress that can be dropped on the floor and can be used as a makeshift bed.
Let us dive into the best floor mattresses we have shortlisted across budget and varied features.
Top Floor Mattresses You Should Consider in 2021
List of Best Floor Mattresses

| Mattress | Name | Type | Price Range | Discounted Price |
| --- | --- | --- | --- | --- |
| | Milliard Tri Folding Memory Foam Floor Mattress with Washable Cover | 6" - Tri-fold - CertiPUR-US | Under $150 | Check Today's Best Price |
| | D&D Thai Floor Rolling Mattress | Rollable Multipurpose Floor Mattress | Under $80 | Check Today's Best Price |
| | Better Habitat SleepReady Floor Mattress | Luxury rollable floor mattress | Under $160 | Check Today's Best Price |
| | Zinus 4 Inch Tri-Fold Comfort Portable Folding Floor Mattress | BioFoam, 5-Year Warranty | Under $170 | Check Today's Best Price |
| | Olee Sleep Tri-Folding Floor Mattress | 4-inches and CertiPUR-US | Under $60 | Check Today's Best Price |
| | Milliard Tri-Fold Foam Folding Mattress and Sofa Bed | Sofa-bed cum floor mattress and CertiPUR-US | Under $100 | Check Today's Best Price |
| | Best Price Trifold Mattress | Good back support, 3 year warranty and CertiPUR-US | Under $90 | Check Today's Best Price |
| | LUCID Folding Gel Memory Foam Floor Mattress | Multipurpose mattress, 3 year warranty and CertiPUR-US | Under $90 | Check Today's Best Price |
| | LUCID Folding Mattress & Sofa Chair | 4", Floor mattress cum Sofa Chair, 3 year warranty and CertiPUR-US | Under $90 | Check Today's Best Price |
| | Leewadee Roll-Up Thai Mat | Ecofriendly, Organic and Attractive Design/Colors | Under $100 | Check Today's Best Price |
Editor's TopMost Pick
The Milliard Tri-fold is our topmost pick if we have to select just one mattress from our list. It is a perfect mattress for unexpected guests at night or you are planning to travel for outdoor camping.
Let us look at the things that make it our favorite.
The Milliard Tri-fold is a 6-inches floor mattress designed with 1.5inches of luxurious memory foam and 4.5 inches of supportive high-density base foam. The foams are wrapped with a non-toxic fire protection chemical-free fiberglass encasement.
The mattress measures 78″x38″x6″ in a flat position on the floor. And when folded, it is 38″x26″x18″. It can easily be folded and stored easily in no time. It weighs around 26 pounds.
The high-density polyfoam base provides good support to the lumbar. Its combination with memory foam makes it ideal for people who prefer medium-firm support.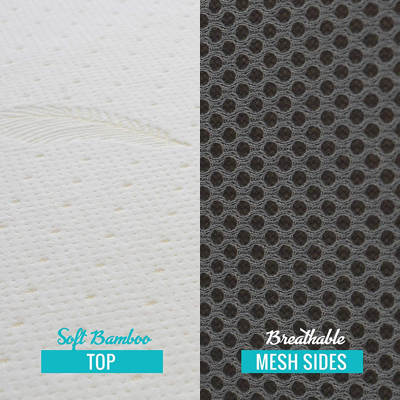 The Milliard is extremely comfortable and comes with a washable soft bamboo cover and anti-slip bottom. The mattress has good ventilation with breathable mesh sides. The foam is CertiPUR-US certified and is low on VOC emissions.
We tested twin xl but it is available in other sizes like full and queen.
Who should buy it?
Milliard is a trusted brand for over a decade and is known for its high-grade mattresses with therapeutic features. The super-soft top is addictive to touch and will be appreciated by most. It suits all kinds of sleepers including side and back sleepers. Medium-firm feel makes it ideal for people who suffer or prone to back-pain.
Alert: Want to SAVE money? Opt for a 4-inches Milliard Tri-fold mattress.
There is a growing following for Japanese and other east Asian countries' way of sleeping on the floor. The traditional Japanese futon floor mattresses are favorite for many.
The consumers looking for futons as floor mattresses should look no further and opt for this best futon mattress.
Let us take a look at the specifications. The D&D, often used as a meditation mat is 30″x80″ and black in color. It is filled with 90% of premium cotton, a layer of polyester fiber and one-inch foam.
It is around 3″ in thickness and it weighs around 15 pounds. Being extremely lightweight and the presence of two in-built straps makes it very easy to handle and store.
Who should buy it?
The customers looking for futon instead of a mattress on the floor option can opt for this. Typically if you are a sleeper who loves sleeping as close as possible to the floor but not compromising on comfort. This is your option hands down.
It is one of the lightest futons in our reviews and hence very portable. Stomach sleepers may not prefer this but it is ideal for back sleepers.
With Futon under $80, this is a budget-friendly option to sleep on the floor.
A multipurpose floor mattress for surprise guests or you need a camping mattress. You can trust Better Habitat. The Better Habitat has a kids version floor mattress as well.
It is easy to unclip, roll-out and ready to sleep. It has a no-slip bottom and waterproof cotton terry sheet. The cotton terry sheet is soft and breathable with a dry feel.
The rollable floor mattress is a luxurious mattress with a 3-inch memory foam profile. The Better Habitat Sleepready comes with a hypoallergenic machine washable cover that prevents allergens, dust mites, bacteria, and mold.
Once rated a comfortable mattress by the National Sleep Foundation, it has been effective in reducing joint pain. It is a premium rollaway bed that can be easily loaded from the top in the bag to carry around.
Who should buy it?
Are you a traveler into camping in the wild or outdoor excursion? This is a comfortable camping pad and easy to take along with you. It comes with a 12-month warranty and free from harmful chemicals, PVC, vinyl, etc.
It is good for side and back sleepers.
Zinus Tri-fold is just under 16 pounds and 4-inches in thickness. Zinus products are known to use memory foam infused with nature-friendly and responsive.
The comfort mat has 1-inch memory foam, 2-inches visco-latex responsive foam and 1-inch high-density support base polyfoam. Zinus memory foam is a biofoam infused with natural plant oil and natural green tea extracts. It has active charcoal which reduces odors and absorbs moisture.
The memory foam is conforming provides ample support and comfort. It is available only in twin size (75″x39″) and CertiPUR-US certified. It has a removable poly jacquard cover. Although the quality of cover was not up to other Zinus products we have reviewed.
We loved the product comes with a 5-year warranty unlike other mattresses in our list.
Who should buy it?
It is a good option for back and stomach sleepers. It is good at absorbing moisture and provides good ventilation so hot sleepers should consider Zinus.
Olee Sleep makes some fantastic sleep products at affordable prices. Olee Sleep tri-fold mattress is no different. Look no further, if you are planning to buy a cheap tri-fold floor mattress without compromising on quality.
With its price hovering well under $70, it is the best option if you want to save some dollars. It is available in two colors blue and grey. It is made up of 100% polyester with a thickness of 4-inches. It has 1.5inches of dura i-gel foam and 2.5 inches of dura support foam.
The Olee Sleep trifold floor mattress is an ideal solution for temporary bedding for the floor. It is an all-season mat for sleeping. It is compressed and delivers the mattress in the box.
The cover is removable and stain-resistant. The foam is CertiPUR-US certified to meet safety standards. The mattress is a little less than 12 pounds. It is light and portable. The exact dimensions are 75″x25″.
Who should buy it?
People looking for value for money floor mattresses should opt Olee Sleep. The product quality in comparison with its pricing is commendable. It is good for customers with neck pain issues. It is soft and with a firm to medium-firm support when used on a hard surface like the floor.
Looking for a dual-purpose budget-friendly option on this list?
This Milliard tri-fold is a budget and pocket-friendly sofa bed that can be used as bedding for the floor.
Cover: The topmost and best floor mattresses are always attractively priced and packaged. The Milliard has a 3D mesh cover made up of 100% polyester. To make it washable, it comes with a zipper so that you can easily remove and wash periodically.
Foam: To accommodate, the feature of the sofa bed and floor mattress, the foam used is CertiPUR-US certified, high-density foam. It enhances the life of the floor mattress/bed by preventing it from sagging easily.
Experience: In our review, we find it quite apt for dual purpose. As a sofa bed sitting option, it is limited in size. On the other hand, as you unfold and spread it as a floor mattress. It transforms into a good mattress for sleeping on the floor. Both as a sofa bed and mattress, it is quite comfortable and convenient.
The foldable mattress has velcro attachments to keep the foldable parts intact when you are lying on the mattress.
Who should buy it?
This could a good option for any type of sleeper or size. It is quite compact when folded as a sofa bed or for storage. We would recommend Milliard to small apartments/rooms, college dorms or someone with a space crunch. Use it as a sofa bed during the day and if there are unexpected guests, quickly turn it into a floor mattress.
Before we start our review and experience with this wonderful Best Price Trifold mattress. We would like to highlight some key points which are misleading on many websites.
Interesting Observations: It does not come with any storage or carry case. Many websites have mentioned the carry case but we at SleepmattressHQ would like to add that the storage case is the case in which the mattress is compressed and shipped in a box.
Once the mattress regains its full shape in 72hours, you may not be able to store it back in the case.
Secondly, it is labeled as a "mattress topper" but in our experience we find it slipping from the bed. As a mattress for the floor, it works like a charm.
Structure: The 4-inch mattress has two layers of foam: 1.5 inches memory foam top layer and 2.5 inches high-density base layer for ample support and comfort. It comes with a zippered cover with the anti-slip bottom. The cover is jacquard and is made up of 100% polyester. The foams are certified by CertiPUR-US.
The top layer of memory foam is infused with green tea extracts for the fresher and odorless experience. The high-density foam layer has pressure relieving properties to prevent back pain.
The removable cover is tagged as "wash by hand" so we would suggest hand wash over a machine wash. Washing the cover with the hand is not tedious as it may sound.
Who should buy it?
People looking for comfort and back support as a priority should buy Best Prices Floor mattress. In our review, we found it meeting our expectations when it comes to pressure relief and back support. As mentioned in the review, we would suggest the mattress for the floor and not as a topper on the mattress.
Certainly one of the best multipurpose mobile mattress in our list. Put it on the floor it is the mattress on the floor you will ever need. Looking for a travel mattress that can take care of your comfort, Lucid is your mat for sleeping when you are out camping. You can use it in cots and trundle beds. It can be a great alternative for your regular mattress.
We have used twin size (75″x 38″) in our review.
Structure: Let us take a sneak peek into what's inside the Lucid. It is a 3-inch mattress with 1-inch gel memory foam and 2-inch high-density supportive base foam. The foams are certified by CertiPUR-US, making it safe from harmful chemicals and suitable for children.
The mattress comes with a 3-year warranty. The removable cover is washable and comes with a quality zipper. The sides of the cover have inbuilt handles for easy maneuvering. With a pricing of under $90, it is an economical option.
Who should buy it?
It is a quality product from Lucid but we didn't found the 3-inch thickness ample for an average size adult. One may find it a little short of ample support and firm for an average to heavy people. The experience may vary from individual to individual. This is a must one for child playrooms, occasional sleepovers or travel-related usage.
This is our second pick from Lucid. The utility of both the Lucid cater to different requirements and price segments. It is priced under $150 and is the best convertible floor mattress on our list. The customers can use it as a sofa chair as well as a floor mattress.
Structure: Lucid comes with a 4-inch thickness profile. It has a layer of temperature-regulating gel memory foam and a high-density base support layer. The four-inch thickness and quality foam work in favor of the convertible mattress. It gives a medium-firm feel suitable for both the uses of the sofa chair and floor mattress.
The foam holds on and supports well without any sagging. The cover is removable and can be washed easily. It resists stain and it durable.
The sides have two double-stitched sturdy carry handles. It makes it easy to carry the mattress around and set up anywhere and whenever you want.
This can easily be converted to a sofa chair with backrest. The mattress is CertiPUR-US certified and comes with a 3-year warranty.
Who should buy it?
Anyone looking for a handy convertible floor mattress with multiple usages. You can convert it into a sleepover floor mattress for guests, camping, dorm rooms, kid's playroom. Alternatively, it can be used as a mattress topper, portable cushion with backrest or mattress for trundle beds, and bunk beds.
The last one on the list is a roll-up floor mat. The choice of floor mats may not be a popular choice but there are a fair amount of people who prefer mats on the floor than regular floor mattresses.
The Leewadee are roll-up Thai floor mats and are priced under $100. The readers looking for premium Japanese futons should consider this roll-up mattress.
They are handmade with extreme care and falls under OTOP Project Thailand. The cover has traditional Thai design and has double seams for extra durability and longevity.
The size of the floor matt, when rolled out, is 79″x30″x2″. The thickness is 2-inches which may seem lower for mattress users but it is quite comfortable considering it is a rollable floor mat. It is made up of Java cotton also called Kapok. They have an uncommon design where long rolls of pillows are stitched together to shape it up into a mat.
The Java cotton is a very breathable fiber and it makes the floor pad airy. They have a unique firm feel but are still very comfortable. If you have never slept on the floor, then it may take a couple of days to get used to them.
Who should buy it?
The floor mat/pad is not for everyone but for someone looking for a firm option for sleeping on the floor. It has multiple uses from a yoga mat to a perfect floor pad for a lounging area or your favorite massage pad. They look quite attractive, thanks to the vibrant colors and design.
Guide to buying Floor Mattresses
Floor mattresses are a cheaper alternative as compared to a regular bed. They take up less space and are easy to setup.
Let us look into the factors that affect our choices when it comes to buying a floor mattress.
Types of Floor Mattresses
Primarily floor mattresses are of two types – foldable floor mattresses and rollable floor mattresses.
Foldable Floor Mattresses
A folding mattress is usually a tri-fold mattress that can be folded easily and occupies less space when folded. A few folding mattresses can be folded into a chair bed during the day time. They all come equipped with a no-slip bottom to provide resistance from sliding.
Rollable Floor Mattresses
A rollable floor mattress is a comparatively thinner mattress that can be rolled into a cylindrical shape mattress. Hence they take up less space than similar foldable floor mattresses.
Before we move further and explore other factors that will guide you in deciding the best floor mattress. Let us look at comparatively how both types stand against each other.
Foldable Floor Mattresses vs Rollable Floor Mattresses
| Foldable Floor Mattresses | Rollable Floor Mattresses |
| --- | --- |
| They are mostly made up of high-density foam with a layer of conforming memory foam. | Gone are the days when rollable were filled up with fiber. Depending on the brand, they are also available in the top layer of memory foam with foam as a base. |
| They thickness can go around 8 inches depending upon brand and model. | They are less thick than a foldable and go up to 4 inches. |
| Foldable weighs more and may not that easy to be used as an outdoor camping mattress. | The rollable floor mattress is lightweight and is easy to carry around while traveling or hiking. |
| They come with a washable removable cover. | Once rolled they are covered with waterproof removable cover. |
| Foldable floor mattress has better padding to be used as yoga mats or mats for children to play. | Depending on kind of padding in some newer models, they may be used as alternatives to yoga mats. |
| They take up more space. | As they are rolled up to take a cylindrical shape, they are more compact. |
| Mostly priced under $150. | Mostly priced under $100. |
Sizing: Although the floor mattresses are available in almost all the sizes including full, queen and king sizes for couples. But in our experience, we found the smaller sizes for a single person separately are more comfortable than a bigger size as a couple.
Durability: The durability of the floor mattress depends upon the usage. Generally, a floor mattress is used occasionally and may last easily around 4-5 years. But if the mattress is for daily usage, expect it to last close to 3 years.
Firmness: The floor mattresses are more towards the firmer side if you are comparing with your regular memory foam mattress. The floor mattress is medium-firm to little firm depending upon the composition and thickness of memory foam and standard base foam.
Temperature: Sleeping on the floor is generally overall on the cooler side. The air around the floor tends to stay cool. Sleeping the floor will give you cooler sleep and can be soothing in summers. In winters, you will require an extra blanket to keep you warm and layering between the mattress and floor is recommended.
Sex: The floor mattresses lack proper responsiveness and the couples may not prefer it for sex.
Trail & Warranty: Most of the floor mattresses do not come with sleep trial periods and the warranty period is far lesser than the regular mattresses. An average warranty on the floor mattress is 5 years approximately.
Pros and cons for bedding on the floor
Pros
Inexpensive option as compared to regular mattresses with beds and bed frames.
Supports the concept of minimalism.
Kids and babies friendly. No fear of toddlers or kids rolling off the bed. Promotes a Montessori floor bed lifestyle.
Cooler experience: If you are staying in tropical areas of the country, sleeping on the floor or lower elevation will be cooler than at a regular bed. Generally, as you go up the air becomes hotter.
Saves space.
Good for your back.
Cons
Making it too soft can lead to back pain.
Dust and insect issues.
Hot sleepers may feel warmer as the floor will help in trapping heat.
Mold formation at swampy or areas with moisture.
Is sleeping on the floor good for your back?
Generally, sleeping on the floor is considered good for your back. The floor provides the firmness required to keep the back aligned. Although this does not hold for pregnant women.
The overnight sleep refreshes your mind, soul, and body. A night of good sleep is an integral part of your overall health. It is the night sleep when the body fully recovers and prepares it for the next day.
The body accustomed to sleeping on plush mattresses cannot easily adapt itself to sleeping on the floor. Moreover too firm surface is not good for your back. It will lead to pain in the back.
Your neck and back will require some cushioning to align the backbone properly. So sleeping on the floor does not mean an absence of pillows and mattresses.
In the ancient history of some Asian countries like China, India, and Japan, the importance of sleeping on the floor is quite evident. Even today, some of the best futons are Japanese.
As per the Harvard Medical School report, it is recommended to sleep on the floor mattress. Using a softer mattress for a longer period negatively affects the back.
Various studies have shown that the medium-firm surface is best for your spine alignment.
There is always confusion among people if sleeping on the floor reduces back pain. It all depends on the kind of surface and sleeping position. Some people have complained about an increase in back pain after sleeping on the floor. Let us explore the possible reasons.
Right Surface: We have to understand one basic fact of sleeping on any surface. If our spine is not aligned properly, it will result in back pain. Depending upon an individual and his history of sleeping on various surfaces/mattresses. The back pain may surface even within a night or may take a few days.
One can opt for Tatami or yoga mat if you are looking for a sleeping mat. Do make a note that they are equipped to minor shock from the firm surface beneath. Hence are not recommended as an alternative to floor mattresses unless advised by a medical practitioner to use a firm surface for sleeping.
Sleeping position: An awkward neck position while sleeping on the floor or a sleeping position resulting in the curve in the spine is not healthy. A well supported back while you sleep on the floor, helps in better circulation of blood.
Stomach and back sleepers are known to have the best experience sleeping on the floor mattress. Side sleepers tend to increase the pressure on the mattress around the hips and shoulder area. This can cause pain in the back.
The futon is the best alternative to mattress for sleeping on the floor. They are not as thick as regular mattresses but are thick enough to support the body.
All you need to make sure that the neck and spine are well supported and you are not in any discomfort while sleeping on the floor.
Does a floor mattresses have a different warranty or hidden clauses?
The floor mattress warranty is not different or have any hidden clauses. But the mattress warranties generally have clauses that they require some bed base. Be mindful of the warranty clauses before using any mattress on the floor.
Futon vs Floor Mattress
Any mattress can be used for sleeping on the floor. Floor mattresses are designed specifically to be used on the floor. They have features like the anti-slip layer at the bottom. Futons are used on any flat surface including floors. When not in use, they can be rolled up easily. In the US, a sofa that can be used as a guest bed is also called Futon. If you are looking for a mattress on the floor, choose a floor mattress as they are designed for the same.
Final Thoughts
Sleeping on the floor has a fair set of advantages. Putting up bedding on the floor doesn't mean you have to compromise on comfort. All you need to understand is your sleep habits and requirements.
We have shared an extensive list of best floor mattresses that cater to different people with a different set of sleeping patterns. Our reviews have been thorough so that you don't feel confused and lost searching for your perfect mattress.