Disclosure – We rely on reader support to run SleepMattressHQ.com. If you purchase products using our links, we may earn a commission. Click here to read about our process.
Searching for the best air mattress to buy can be quite challenging. They come with a perception that can make things more difficult in choosing an inflatable air mattress.
We reviewed some of the hottest selling air mattresses in 2022 to help you find a high-quality air mattress for you. Our selection is based on various criteria to suit varied needs.
You may be looking for an air mattress for everyday use or an air mattress for your next camping trip. There is no single one that can fulfill specific needs. We have shortlisted blow-up mattresses based on specific needs so that you can choose as an informed buyer.
We have even included some warnings as listed by concerned brands. These are essential to keep the information transparent for our readers.
If you are new to buying air mattresses in the market, we would urge you to go through our buying guide before going through our list.
The air bed is considered a cheaper option than a real mattress but throwing money randomly on any product will lead to a disappointing experience or frequent Amazon returns.
Surely you don't want to spend your evening locating the hole in an air mattress and patch it up to make it usable for waiting guests.
Pick up one that provides a good sleeping experience from our list and we are sure you won't be disappointed.
Quick List
SoundAsleep Dream Series – Best for Indoor Use.
1-click internal pump.
Raised Air bed with double height.
Extra thick, waterproof and flocked top
1-year warranty.
SoundAsleep Dream Series is among the top three on our list. It promises a comfortable sleeping experience and is made to last longer.
The SoundAsleep is designed using ComfortCoil technology. It has a firmness level that provides stability. SureGrip bottom prevents sliding. It is a premium raised air bed with dual chamber construction.
SoundAsleep has an Internal patented 1-click built-in pump. It roughly takes around 4 mins to inflate. So no more worries or an awkward situation when overnight guests are waiting for the bed to be set up. A quick setup is all you need in such situations
It has a waterproof, extra-thick flocked top that enhances the comfort level.
SoundAsleep uses a multilayered eco-friendly puncture-resistant PVC adding more life to it.
Our experience while reviewing was fairly pleasant and we didn't find any issues worth mentioning.
In SMHQ research from past customers, a limited number of customers did find quality issues on using it for a few days but they were extremely satisfied with customer service and support provided by the company. In some cases, the company even replaced it with a brand new one to avoid any delay.
Warning: The company mentions in the manual that the warranty will be void if it is used daily instead of a traditional bed. It is for sporadic usage only with a maximum cap of 2 months of continuous use. An actual mattress or a good futon for daily usage is explicitly mentioned as a recommendation in the manual.
TOP PICK: King Koil
Quick inflation option.
Flocked bed.
Built-in pillow.
Quilt top for extra support.
1-year warranty
Flocked bed.
King Koil is our overall best air mattress on our list. As per our experience and review, if budget is not a constraint, this is what should be in your shopping cart.
It has some practical features which provide unmatched comfort you might be looking for. It has a built-in pillow or pillow rest and a quilt top to support your spine. So no more back pain.
The air bed is equipped with coil-beam construction and an integrated pump for easy inflation. It also helps you have the desired firmness by varying the inflation. The company has also added patch kits in case you accidentally puncture your bed.
The inflation time is quick and approximately around 2 minutes. This is almost half the time of its competition. It is intended for both indoor and outdoor camping trips.
The suede top prevents the sheet from slipping but it can be a challenge to clean the top.
Insta-Bed Raised Mattress
We tested a few NeverFLAT mattresses but this Insta-Bed was ahead of most of them by a good margin. NeverFLAT is known for its technology to retain inflation.
The primary pump of the twin inbuilt pump system provides the desired firmness. The sleeper can choose between plush, medium, and firm.
The secondary pump keeps a check on the desired air pressure. It silently, without interrupting your sleep, maintains the pressure throughout the night. Hence your air bed never sags in the night
Insta-bed is constructed with 35 circular coils with welded verticle and horizontal enforcement for extra support and comfort. It has a suede top so that you have a fitted sheet on the bed.
With an approx height of 19-inch, getting in and out of bed is quite comfortable.
One of the strongest points is its construction which is a key factor in providing comfort and the second is its two-pump system. They are surprisingly silent and help in maintaining the pressure.
WARNING as on manual: This product may contain chemicals known to the State of California to cause cancer, birth defects, or other reproductive harm. For more information go to www.p65warnings.ca.gov
Intex Dura-Beam Blow-up Mattress – Best Value for Money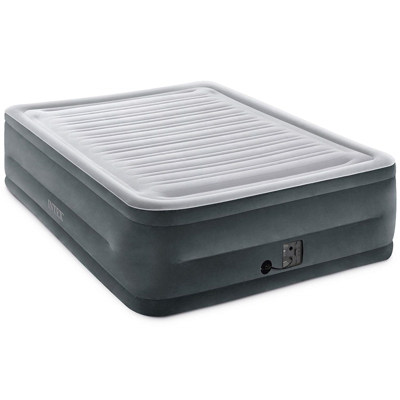 22-inch in height.
In-Built Pump
Flocked air bed.
Fiber-tech construction.
Weight capacity of up to 600 pounds.
Carry Bag
Budget-friendly.
The Intex dura beam provides the best value for your money. It is extremely well priced (under $60), inbuilt pump, and has good construction quality.
The first thing that struck our mind as soon as it got inflated was that "it is a tall boy".
The Dura-Beam air bed is around 22-inch which is taller than any average air bed in the market. This is certainly made getting into bed easier.
It takes around 4-5minutes to inflate. Optionally you can inflate with a manual pump as well.
The entire dura-beam series uses patented fiber-tech interior construction. It uses thousands of support beams made up of polyester fibers. It keeps it lightweight and still provides strength as well as durability.
Another noticeable feature is the velvety sides apart from the plush dual air pillowtop. Velvety sides make it a bit puncture-resistant.
Fox AirBed – Best Leak Proof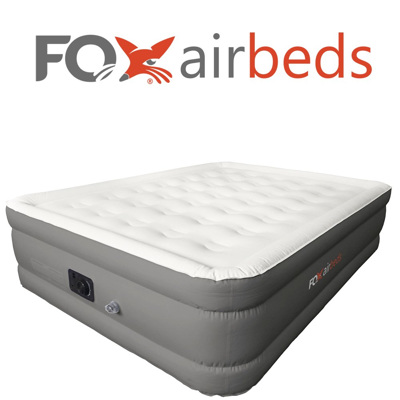 Sturdy bed – Thick vinyl, I-Beam Coil and Side Chambers.
Powerful built-in air pump.
True queen size.
Best for indoor & outdoor.
Excellent customer service.
Less bouncy.
1-year warranty.
Fox airbed is one of our favorites from our list. This is again a plush high rise raised blow-up mattress.
The construction is the prime reason it is expected to be leakproof. The airbed uses one of the thickest quality vinyl (0.60mm instead of 0.40mm). It has side chambers that provide good edge support and prevent sagging.
Internally it has i-beam coils for extra support even if it is being used by a couple. The height is 18-19inch approx. It has a pump for easy inflation and an optional pinch-in valve for quick deflation or manual inflation.
The pillow-top has a top with air chambers for extra comfort and reduces the bouncy feel. Although we tested the queen-size but is also available in twin size, full, and king sizes.
Update: A few of our readers cross-checked with us if the top has memory foam. We want to clarify that there is no memory foam top.
Wey&Fly Back Seat
Double-sided flocking.
Heavyweight load capacity.
Multiple inflation modes.
Electric Air Pump.
Repair Kit.
Carry Bag.
Weight capacity is 500lbs.
You love car camping, your camping kit will be incomplete without a good SUV air mattress. We tested three air beds and we found that the We&Fly suited best to your camping sleep.
It does not matter if you have a mini-van, Ford Explorer, FJ Cruiser, or my personal favorite Jeep Wrangler. We&Fly will cater to all your needs and is better than a sleeping pad.
It has multiple inflation modes to suit and accommodate your needs. Apart from 100% inflation, it has 60% and 40% inflatable levels as an option. Different scenarios demand sizes and this is the one you need.
It has an environment-friendly PVC, cold-resistant, breathable, double-sided corduroy top. It has an I-shaped design to help its usage by two people of different weights.
It can handle ambient temperatures anywhere from -13F to 122F (-25C to 50C). With a size of 15.6×10.1×5.6 inches and its unique folding design, it can be accommodated in most cars and SUVs.
Coleman SupportRest AirBed – Most Comfortable
Raised Airbed with Pillow Stop.
External electric pump included.
Leak-free AirTight system.
Storage bag.
Weight capacity: 600lbs.
We could not find an alternative to beat on the kind of comfort Coleman provides. It is extremely comfortable and gives you a close to a regular mattress experience.
The external pump is of good quality and being an electric one is faster than any battery-operated pump. It has a double-high height for easier getting in and out. With a higher weight capacity of 600lbs, it is also a good option for heavy people.
Coleman has pros and some cons as well. It comes with an external electric pump only. So things can be tricky if you are outdoors or the electric plug is not nearby. The pillow stop isn't high. It is merely useful in stopping the pillow to fall and cannot be used as a pillow.
WARNING as on manual: This product can expose you to Di(2-Ethylhexyl)phthalate (DEHP), which is known to the State of California to cause birth defects or reproductive harm. For more information go to www.P65Warnings.ca.gov
Lazery Sleep – Most Durable
Heavy-duty taller air mattress with internal air coils.
Includes electric pump.
7 firmness settings via remote.
Weight capacity up to 500lbs
1-year warranty
The airbed can easily be categorized under the dependable feature-rich and most durable. It is the only blow-up mattress we reviewed that has seven firmness setting and are accessible through wired remote control. We loved changing the firmness while lying. It is convenient as well as helps you decide the firmness more accurately.
It is made up of 40 individual air coils with an extra thick waterproof top. The internal design has dual air chambers to provide better durability and long life.
It takes under 4 mins to inflate. For safety, the pump has an auto-shutoff feature. It is quite portable once inflated and shifted to a carrying case.
Additionally, after using the entire night, it did not show any signs of sagging or losing air.
Note: The remote control provided is a wired remote.
Intex Ultra Plush Dura-Beam Inflatable Mattress with HeadBoard
Built-in headboard
18-inch Raised Airbed.
Fiber-tech construction.
Plush PillowTop surface.
Internal pump.
Carry case.
Weight capacity up to 600lbs.
You may be looking to buy an air mattress for guests who would be lounging or need back support. Intex has got you covered.
This one belongs to Intex's dura-beam series. The dura-beam advantage includes patented fiber-tech construction. Thousands of polyester fibers make up each support beam. All the support beams help in extra durability and support.
It is lightweight and comfortable
Coleman Kids Air Mattress
Coleman has coil construction for better support and comfort. The top surface is velvety and soft so that kids have a better sleep. This can be used both indoors and outdoors, thanks to the construction quality and size.
The only con with this one is the absence of a pump. It reduces its cost without compromising quality. It can be a good choice if you already own one.
AeroBed Kids Air Mattress with Sides
Aerobed is designed specifically for kids age 4 years and above. It features a 4-inch high surround cushion to safeguard children from falling off the bed.
The construction quality is excellent and is made up of heavy-duty PVC with electronically welded seams. Expect it to last long and be highly durable.
It is slightly shorter than a twin bed. The dimensions of the AeroBed are 50x25x10 inches. It is convenient to inflate and deflate with the help of the pump provided. It takes under 1 minute to inflate or deflate.
The AeroBed has also included a mattress pad for added comfort and to attract children with star and moon designs.
Things to Consider While Buying an Air Mattress
Buying an air bed is a relatively cheaper option than a traditional mattress. The coating can be as low as $40-$45 but before we jump into the cheapest option or the most luxurious one available on Amazon. We urge our readers to make an informed choice.
We are listing some buying considerations you need to know before you press the order now button. Let us explore each factor one by one.
Purpose: Start with choosing the purpose of your purchase. Air beds are frequently bought as extra guest beds or for camping. We have seen a lot of customers are ready to use them every day. All these are very specific requirements and even the top-rated ones wouldn't cater to all.
Material: You might be surprised by so many options available right now. The resistant material and the construction hold the key to its longevity. For daily usage opt for a heavy-duty one and for camping – a lightweight would enhance your camping experience.
Pump Type: Opt for one with a built-in electric pump rather than a manual pump. Buying an external one can be more expensive and cumbersome. Also, look for a bed with a lower inflate time.
Waiting for the bed to gain its full inflated form for 15 mins can be annoying. Some self-inflating options auto-fills the air when there is a drop in the air pressure. All this without even making the sleeper realize while it is pumping air.
Price: It may be the cheapest bed option but based on our review we strongly recommend keeping a decent budget for your purchase. The cheaper options have some cool features on paper but the comfort level will be far from satisfactory. Even a budget air mattress for indoors should be $50 onwards.
Warranty & Customer Care: While they are put through stringent quality checks, there may be an odd (unlucky) case that will need a warranty for repair or even a replacement. We recommend buying one with a good warranty period. Do check the history of customer care of the brand. Average customer service dampens your spirits to avail warranty.
During our customer service research, we encountered some renowned older brands that lacked enthusiasm. Go an extra edge and call customer care and see how they deal with your queries.
Best Air Mattress for Heavy Person
There are some key factors you need to be mindful of if you are overweight or a heavy person. Some of these suggestions may seem minor or might even get overlooked, but they will make a significant difference to your sleep.
Here are some factors you need to keep in mind.
Appropriate height: It should not be too low as it may lead to difficulty in getting in and out of bed.
Pump Style: Opt for an integrated one to inflate. Manually inflating it can be a task.
Quality: Always pick a good quality, heavy-duty air mattress. A cheaper one is high on maintenance and you will end up dumping them sooner than you would want.
Weight limits: Make sure you check the maximum weight limit and it suits your requirement. Usually, this limit varies between 300lbs to 500lbs

Choosing a Pet Proof Air Mattress
Thinking about your pet in a room with an air bed can cause you some anxiety. As a dog or cat lover, choosing a pet-proof blow-up mattress will be a top priority.
Choose a heavy-duty mattress with thick PVC/Vinyl along with keeping nails clipped can ensure longer life.
Our recommendation for the best pet-proof air mattress will be Sound Asleep or Lazery Sleep Air Mattress.
Which is the Best Air Mattress for Side Sleepers?
The story for side sleepers may not be as rosy as it is for other mattress types. The side sleepers generally have to select one with the right construction. Side sleepers need to make smart adjustments so that the pressure points at the shoulder and hip areas are covered.
You need to look for a sturdy option that can hold its optimal firmness. It should not sag or lose firmness around the hip area.
The neck support is critical on a flat and firm bed so the role of the pillow and its positioning becomes more important for side sleepers.
How do Air Mattresses prevent bedsores?
Air mattresses are known to be effective in preventing bedsores and ulcers in comparison to regular mattresses. They help in providing distributed pressure across the body while you are sleeping.
The main cause of sores is the continuous pressure on certain parts of the body that comes in contact with the bed. A standard mattress exerts around 120mmHg pressure when you are in bed for a longer duration.
It is also important to note that skin moisture along with pressure also plays a role in creating ulcers.
How to remove air bubbles from an Air Mattress?
Often a hole in an air mattress can lead to bubbles. If the air bubbles are not removed they can damage the air bed. Hence it is important to remove air bubbles as soon as you notice them. The bulge can be removed easily by following the steps below.
Press and hold the bubble down.
Squeeze and try to push it out of the nozzle.
Remove the air of the bubble.
Add more air into the bed until it is firm again.
Screw the nozzle tightly.
Frequently Asked Questions
Final Thoughts
Selecting a perfect mattress can be a challenge and it becomes more confusing when the internet is filled with the best of best lists. An effort has been made to find reasonable and some of the top-rated air beds available online.
We urge our readers to find your primary reasons for purchase and select one from our list based on your expectations. The list has been curated with care and each one is worthy of owning. And we can be sure, you won't regret buying any one of them.
Happy Shopping!
Related Topics: