Disclosure – We rely on reader support to run SleepMattressHQ.com. If you purchase products using our links, we may earn a commission. Click here to read about our process.
Every person has a different sleeping position and there is no set pattern to demystify what will give you the best or most comfy sleep.
It varies for all people and may change for every person even during his sleep.
Many people sleep on their backs. This means when your back is in contact with your sleeping surface and the rest of your body is aligned the same as in the position you are standing.
It is a beneficial sleeping position and is known to give appropriate rest to your spine. Your legs, hands, and hips are in the correct position and completely relaxed. But according to various surveys, only 14% of Americans sleep on their black.
Another position is sleeping on your stomach. In this case, your stomach is at the base and around 16% of people sleep in this position. it is not highly recommended as stomach sleepers tend to sprain their back and neck along with numbness in various joints.
Stomach Sleepers also risk their spinal alignment as keeping the chest at the base makes the spine relax in an unnatural position. The majority of Americans, specifically 63%, are side-sleepers i.e. sleep on their side.
Side sleeping position is extremely comfortable and has been termed appropriate by chiropractors as well. Side Sleeping can cause excellent blood flow and since the spine is not at the base, it is not pressurized.
If you are a left-side sleeper, it is proven that it can reduce heartburn.
Another variant of side sleeping, which may appear like a small package, is the fetal position in which your legs and arms are all curled inside. It is also highly beneficial but tries to not curl up your legs and lower back too tightly.
A few years back Goldilocks or the Raw Egg Experiment by Purple Mattresses caused a stir in the market. They were advertised as highly comfortable and had a specific pressure point relief system. The question is do we have one that fits all requirements?
Suggested Best Side Sleepers Positions
We have already highlighted that the most popular and common sleeping position is Side Sleeping.
Side Sleeping can be highly beneficial and relieving. It is relaxing and is recommended by chiropractors as well. Since the spine is not at the base, side sleeping carries enormous benefits. The alignment remains perfect and the accurate posture makes sure all the organs are at rest.
Side Sleeping can be beneficial for people with snoring problems and this position has been linked with benefits for your heart and blood circulation as well.
Generally, side sleeping may be further categorized in 4 more positions: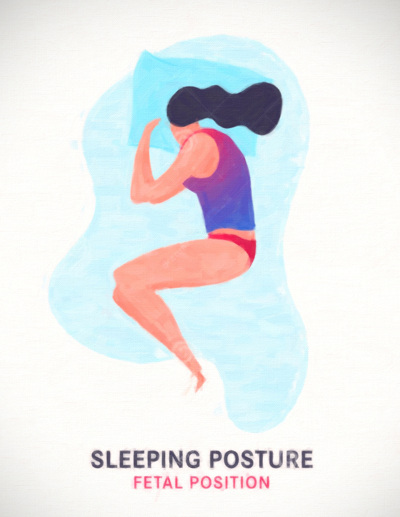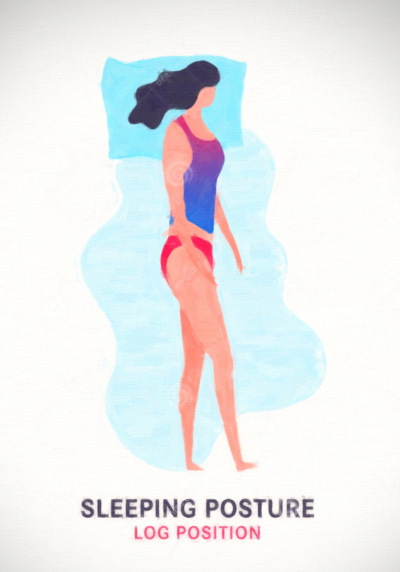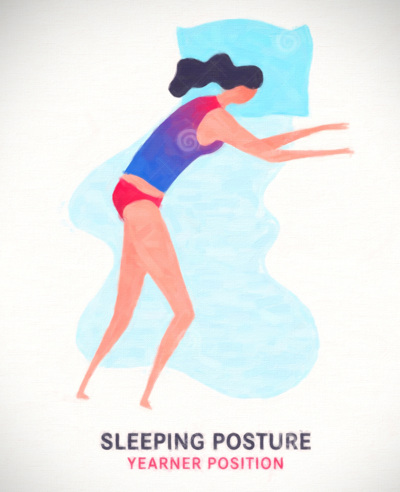 The Fetal Position as we talked about in which your lower back is hunched and legs and arms are curled up inwards to your belly.
The Log Position in which the arms and legs remain extended while the back remains straight while side sleeping.
The Yearner maybe another close variant of the Log Position. In this, only arms remain outwards extended while the legs and back remain straight.
The Sprinter is a very rare sleeping position. The arms and back remain straight while one leg is curled upwards and the other remains extended.
An important note is that none of these positions can be characterized as the most advantageous.
The Fetal Position is highly common as 40% of people sleep in this position. It is a recommended sleeping position if you are a side sleeper with back pain. The rest of the positions are not very common but still, any position may comfort you as per the needs of your body.
One problem with the extended legs sleeping position may be spinal alignment due to no pelvic rotation. Therefore, to avoid such issues it is highly preferred and recommended by chiropractors to use top-notch quality beds that are specifically comforting for side sleepers.
List Top 8 Mattresses for Side Sleepers
Reviews
Dreamfoam Bedding Chill Gel Memory Foam
Our list-topper is the brilliant Dreamfoam Bedding Chill Memory Foam. Loaded with some top-class features and known to last long, this is perfect for side sleepers.
This is the best gel foam mattress for side sleepers. In our research, we found past customers are extremely happy and positive about this brilliant commodity.
Dreamfoam receives enormous praise for its innovative gel foam. It maintains a desirable temperature for sleeping and doesn't cause excessive heat leading to sweating while sleeping.
It requires 24 hours to expand which is acceptable and it's extremely lightweight which allows for quick and easy shipping.
Dreamfoam comes with a 10 Year Warranty which is sufficient in comparison to the price we pay to purchase the Dreamfoam Memory Foam.
What We Like:
The Gel Foam: The memory foam is innovative and facilitates a cool sleeping experience
Lightweight: Since the weight is quite low, it is easy to assemble and convenient to use.
Durable: The base remains strong and can be used for many years. A 10-year Warranty provides for worry-free usage.
Nectar Mattress
Nectar Queen Mattress + 2 Pillows Included - Gel...
Relieves body ache and makes sure correct posture is maintained for optimal comfort
Regulates heat and maintains the accurate sleeping temperature
The Top Tencel Cover is moisture-wicking and comparatively much more breathable than others.
Best in Class 180 Night Trial Period and Lifetime Warranty by Nectar
A quality product by the fastest growing mattress firm in the USA is the Nectar Gel Memory Foam. It comes with the quality assurance of a reliable firm – Nectar and it doesn't fail to deliver genuine quality and unmatched comfort to all users.
The Nectar Queen Memory Foam Mattress creates a league of its own and is recommended for back pain issues. It is superb in all spheres – comfort, posture-maintenance, or durability. The best part about this is that it's highly affordable and therefore it is our top choice for the best mattress for side sleepers.
As a customer, one cannot ignore Nectar's reliability and fanbase among its past customers. Nectar provides the highest in industry 180-night trial period along with a Lifetime Warranty.
In a nutshell, go for this if you want to get all the great features and realize the worth of every penny you spend in buying this.
What We Like:
Value for Money: It comes with 2 pillows for side sleepers and is priced for an average budget customer.
Innovative: It has 5-layer gel memory foam and maintains correct body temperature. The Tencel cover is soft and moisture-wicking
Customer Assurance: The 180 Night Trial Period and Lifetime Warranty make sure you do not face any trouble with regards to the maintenance of this product.
Coming with a beautifully designed knitted cover, probably the best bed in a box for heavy side sleepers is the Leesa Memory Foam. It is a hot favorite among all side sleepers due to its unmatched comfort and reliable quality.
Our top 3 mattresses are in cut-throat competition for being the best mattress for side sleepers. Leesa Memory Foam is nothing short of just perfect comfort and reliable quality.
It is suitable for those who wish to give their rooms a luxurious touch with this amazing mattress. Overall, this can be the most accurate bedding option for side-sleepers.
What do We Like:
Luxurious Looks: The top cover is beautifully designed and gives a lavish feel.
Innovative Microcell Feature: This attribute makes it fall into the category of the Best Cool Mattress For Side Sleepers.
Quality Assurance: The 100 Night Trial Period and 10 Year Warranty are enough to assure you of the unrivaled comfort this top-quality bedding can provide.
An award-winning bed in a box by Casper is just the perfect option for side-sleepers. It is one of our top recommendations for the best mattress for side sleepers because of its amazing features and great customer response.
The Casper Original Foam mattress has been named as one of Time Magazine's best inventions. Casper has gained enormous customer satisfaction and popularity in very little time.
The most appreciated part of this is its breathable cell foams. These make it a great option for a mattress for hot flashes.
Customers can be assured of sweat-free sleep if they use this innovative Casper Foam. Casper provides a 10-year limited warranty similar to its competitors.
What do We like?
Cool Sleeping Surface: These are best suited for hot sleepers to cool them down for a comfortable night's sleep.
Versatile: It is highly recommended for side sleepers with varying body sizes and shapes.
---
Brooklyn Aurora Luxury Cooling Gel Hybrid Mattress
Excellent immediate response technology and encased coil support for pressure point relief to side sleepers.
Option to customize firmness levels to fit your sleeping requirements.
Manufactured in USA and CertiPUR Certified.
It has a 10 Years Warranty for a worry-free usage period.
If you are looking for a luxurious experience at an affordable price, then the Brooklyn Aurora is bound to satisfy you. Hence it is our "Editor's Choice for the Best Mattress for Side Sleepers".
Brooklyn has been in this industry for over 25 years and the experience and great quality are visible in this product. People applaud the cool sleeping surface and the long-lasting nature of this bedding.
Many customers remark it has an affordable luxury for those with a compact budget.
Another reason to purchase this option is that every Brooklyn goes through a 12-point expert checking so that it meets the top-level quality standards. This makes the Brooklyn Aurora the most trustable and dependable mattress, especially for side sleepers.
What do We Like:
Firmness Options: The ability to customize firmness as per your requirement is a standout feature.
Affordable: With its unique features and lavish experience at such a reasonable price, there is no reason to not grab this deal.
Hassle-Free Warranty: You get 10 years of no tension and any trouble is resolved by the diligent staff of Brooklyn Beddings customer care.
Zinus Gel-Infused Green Tea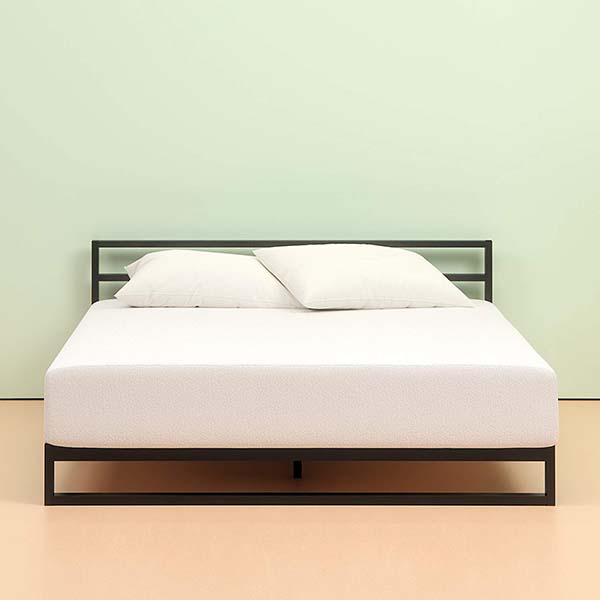 The knitted Jacquard sleeping surface is the best-in-class at such an affordable price.
It has memory foam core construction for unparallel comfort.
There is a high-density base foam for effective support and durability.
It is infused with green tea and castor oil extracts for a refreshing fragrance and killing harmful bacteria.
The cooling gel makes sure you do not sweat in hot weather.
The most suitable mattress for couples is also the best fit for your budget. The Zinus Memory Foam with Gel-Infused Green Tea is true to every penny you spend in buying this amazing mattress.
In our extensive research, this is simply the most appreciated mattress for side sleepers. Customers applaud this for its innovative cooling surface and the luxury feel they get while they sleep.
It is CertiPUR Certified and manufactured in the USA, this means that it suffices all quality standards to only deliver sheer comfort and durability to all buyers.
Lastly, the 10 Year Warranty makes it a great package of everything you might be looking for at an extremely low price.
What do We like?
Comfort: It is constructed up of 5 Layer Memory foam, making it one of the most comfortable mattresses for side sleepers.
Value for Money: At under $300, you get superb comfort, long-lasting usage, and a reasonable warranty period. There is nothing else that can be made available at such a low price.
Our top choice if you are a fan of innovative features, is the Layla Sleep Copper Infused Memory Foam Mattress.
It provides stiff competition to our Leesa Memory Foam recommendation. Its innovative features are its USP.
Side Sleepers will have a peaceful sleep on the Layla Sleep. People have experienced relief from sleeping hot with the Copper Infused Foam and have lauded the customer service as well.
Since it is a bed in a box it is highly convenient to be delivered and can be easily assembled. Thus, a great option for those buyers looking for a mattress under 1000 for side sleepers.
What do We like?
Innovation: The Copper Infused Foam is effective in providing cooler night sleep and ultimate comfort.
Durable: It makes use of top-quality material and will easily last for many years.
---
Casper Wave Hybrid
5 layers of top-quality foam with contouring pressure for support and breathability
Unique ergonomic system has targeted Gel pods for perfect spinal alignment
Excellent humidity-resistant wool cover for a cool sleep.
CertiPUR Certified and no use of harmful chemicals.
Last on our list, is the Casper Wave Hybrid. It is a luxury mattress under $2500 but it has some astounding attributes that make sure customers are willing to go the extra mile and buy this.
Our experience with Wave is positive and rewarding. The wool cover (our favorite) has tiny pores that allow for proper heat dispersion and make sure you do not get sweat while sleeping.
It makes sure you have the perfect sleeping posture and accurate spinal alignment to give rest to all body parts. Sure, it may be a bit expensive but it has some brilliant qualities that make sure you do not mind spending those extra bucks on such a great mattress.
What do We like?
Sleep Comfort: The ergonomic system ensures the perfect sleeping posture and relaxes your entire body
Safe to Use: It is CertiPUR Certified and no harmful chemicals are used in production, making it completely safe to use in our daily lives.
Mattress Buying Guide for Side Sleepers
Let us look into some of the key factors to look into before you decide on the best mattress for you as a side sleeper.
Are you already suffering from any existing pain?
It is one of the key factors before considering any mattress. The most common pain for side sleepers are
Neck Pain
Back Pain
Shoulder Pain
Hip Pain
All the above health issues require pressure relief at specific pressure points. To address and support pressure relief, the right mattress is the key.
The debate about firmness never ends. Too firm or too soft may not be as supportive as your body type needs. It is always the right balance of being soft yet firm which works.
Generally, a heavy person needs a firm to medium-firm mattress to avoid the body sinking. And a thin or lightweight person can find support in a plush and softer mattress. Understanding your weight and the firmness of the bed is important.
There are a wide variety of types of mattresses based on the material used. Recommending a specific material type can lead to buying the wrong bed. Whether it is latex, memory foam, innerspring, or a hybrid, everyone is capable of providing a good comfortable sleep.
Most of the hybrid mattresses have a distinct inner construction to support and contouring to your body.
An adequate comfort from the top layer and support from the base or the core of the mattress is the basics of a good mattress. For eg: Natural latex is known to provide better contouring when compared with memory foam and suits all sleeper types. But this comes at a price, latex is more expensive than memory foam.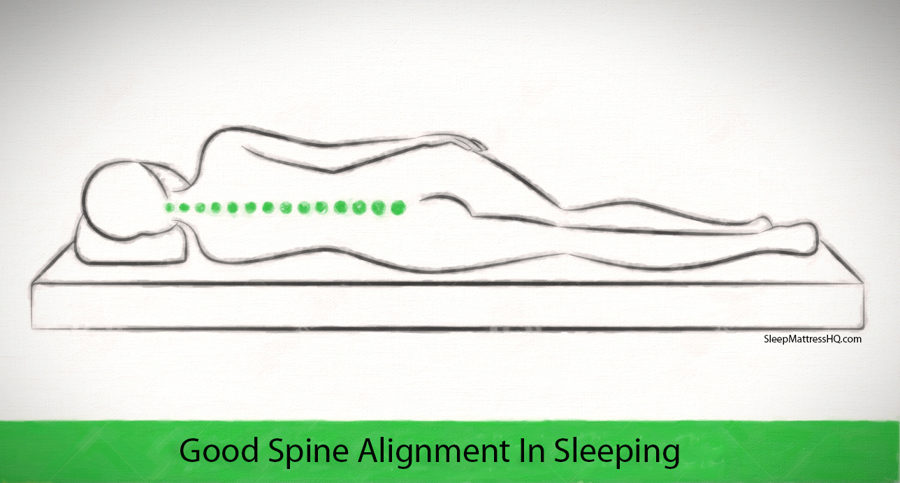 The spine is the backbone of the body and the appropriate spine alignment is crucial in any sleep position. In a side-sleeping position, the spine alignment should ideally be straight. Any curve in the spine while sleeping on the side for a longer period can lead to pain at the point under pressure.
Which is the Best Bed in a Box for Side Sleepers
Gone are the days when customers used to spend their entire weekend purchasing a traditional mattress. The technology has been revolutionized to a new way of shipping and buying a mattress – Bed in a Box.
It is highly convenient to assemble and deliver them to various locations. If you get a superior quality mattress that is not only relaxing to your spine but easy to set up then there is nothing else to look for.
Bed in a box is now becoming popular as they not only increase convenience to the consumer but also allow for quick shipment and delivery.
However, after taking this out of the package, do give it sufficient time, as written in the instruction manual, to set up. Our recommendations for the best bed in a box for side sleepers are:
Leesa 10-inch Memory Foam Mattress in a Box : This may be a bit expensive, but is undoubtedly the best bed in a box for side sleepers. It has a knitted cover and the best quality material is used in construction. It has the assurance of an accurate hug and bounce feel due to the high-quality foam's microcell structure.
Zinus 12 Inch Gel-Infused Green Tea Memory Foam Mattress : Our list's value for money mattress, is the Zinus Green Tea. It has all the features necessary for the best sleeping experience for all side sleepers. It has 3 inches of memory foam and 2 inches of comfort foam for proper support and maintenance of correct sleeping posture.
Natural Green Tea is infused for a refreshing feel and no odor. At just under $300, this is the best bed in a box for compact budget buyers.
Which is the Best Mattress for Hot Side Sleepers
It is a common problem that the sleeping surface tends to get warm during those hot weather nights. This leads to the surface getting sticky or unwanted sweating throughout the night.
Many customers have provided testimony to the fact that the cooling properties are a major influencer in their decision-making process.
To tackle this issue, different brands use innovative techniques. Some try to improve the airflow system, while others infuse the foam with cooling ingredients like Green Tea.
Nobody likes to wake up and find all sweat over their body. Even if it's very humid outside, some are designed to make sure you feel cool and get a trouble-free sleep.
Therefore, for all the side sleepers we bring our choice for those mattresses that are not only suited for side sleepers but also have innovative attributes to keep your body cool even during high-temperature nights.
Recommendations for the Best Mattress for Hot Side Sleepers
Leesa 10-inch Memory Foam in a Box
It has some of the best features and if you are willing to be a bit extravagant, then this is the best option for you.
It supports effective airflow due to the unique microcell structure of the high-quality foam and gives you a cool sleep. The 4-stripe mattress cover is its trademark and gives the ultimate luxurious look.
Additionally, the innovative LSA200 foam is designed specifically for support of the hips and shoulders, so when you need supreme comfort and relief, this is for you.
Zinus 12 Inch Gel-Infused Green Tea Memory Foam Mattress
Having a knitted jacquard cover, the Zinus Green Tea Memory Foam is a cool option at an affordable price.
The infused Green Tea extract and Castor Seed Oil are enough to not only kill harmful bacteria but also retard foul smell or odor. It has a hypoallergenic fabric and a 10 Year Warranty.
There is nothing else that can match the benefits of buying this at such a reasonable price.
Recommended Best Tempur-pedic Mattress for Side Sleepers
Tempur-pedic mattresses are a major innovation in this industry. These are extremely comfortable for side sleepers as they provide support to shoulders, knees, and back.
Another incentive attached to these is that they last much longer than other similar options. The material used is a memory foam or sometimes hybrid memory foam is also used.
The Tempur-Pedic models are known and proven to reduce pain in pressure points and these come with pillows, bedsheets, etc.
Tempur-pedic is also known to help deal with sleep apnea. Now there are a few different models of Tempur-Pedic. Our choice for the best Tempur-pedic in today's market is:
TEMPUR-Adapt Memory Foam
It is the perfect example of how a brilliant product can never lose its shine. The classic or maybe the vintage product is our choice for the best Tempur-pedic mattress. It comprises the Tempur Material developed by NASA that is extremely popular.
The TEMPUR-Adapt is not at all over-priced and has complete value for money. The cool-to-touch cover makes sure you do not sweat and remain cool even during those hot weather humid nights. it also has moveable cells that give you a personalized feel.
Perfect contouring and weight distribution all add to give you an experience felt never before. Purchase this and make your every night peaceful.
More details here: Best Tempur-Pedic Mattress for Side Sleepers.
Best Mattress for Side Sleepers recommended by Chiropractors
We have already seen that different requirements or situations demand different mattresses. For instance, old people generally prefer adjustable beds whereas young people have very different needs.
Mattresses are becoming more and more a personal choice and therefore sufficient review of different customer experiences is of paramount importance.
While researching and reading various reviews, it must be made sure that the reviewers are verified. Sometimes customer reviews can be misleading and therefore knowing what chiropractors recommend or say is also important.
Therefore, we are providing our choice that is not only a customer favorite but recommended by chiropractors and medically certified personnel as well.
Casper Wave
Casper started its journey in this industry in 2014 and today it has arguably become the market leader for the best bed-in-a-box.
The Casper Wave is not only extremely popular among customers but also recommended by chiropractors.
The 5 layers of premium quality foam are not only innovative but extremely helpful in accurate spinal alignment. The Wave from Casper is not only comfy but durable as well. A detailed review has also been provided above.
However, a note of caution is that it is a general recommendation by chiropractors but those with specific health problems may require different options that alleviate their respective trouble.
Mattress for Side Sleepers with Sciatica
A common pain we face in our daily sleeping is Sciatica. It is not generally termed as a disease but may be an indication of another health trouble such as slipped disc, arthritis, or spinal degradation.
Its symptoms include a sharp pinch-like pain in the lower back that may move up to your legs. Sciatica may also cause numbness or tingling sensations.
If you do not have the correct bed, this problem may become much more serious. It may affect your spinal alignment and cause even more pain. Therefore, it is advisable to use only specially designed mattresses for Sciatica.
These are incredibly comfortable and make sure nobody part is in pain. Proper alignment is assured which makes sure all organs remain sufficiently relaxed.
Our recommendations for those who face this trouble are the following options:
Editor's Choice: Nectar All-Foam Mattress
Coming with 2 free pillows, the Nectar is extremely comfortable and has a very relieving sleeping surface. The optimal comfort level and coolness of the surface make sure you get a peaceful sleep.
There are 2 gel memory foam layers and a 180-night trial is also available for customer assurance. In a nutshell, this is a great option if you require comfort and sustainability.
Budget Option: Casper Element
The Market Leader – Casper has launched a budget option that is not only extremely comfortable but comes with the trademark durability which almost all Casper models have.
It is the perfect combination of softness and support and the breathable AirScapeTM Layer makes sure that sufficient coolness is maintained. The strong base foam prevents sinking and is extremely durable.
Recommendation for Side Sleepers with Fibromyalgia
A common problem also known as Fibrositis is a major determinant in deciding your comfort and sleep quality.
It is characterized by body pain, tender spots, and trouble sleeping. It is known to affect as many as 3 million people across the USA, which shows the gravity of this problem.
Sometimes you may even feel fatigued and depressed due to a bizarre sleep that this pain induces you to take every night. But do not worry! We have carefully handpicked models that are tried, tested, and verified multiple times to counter this problem.
Our choice for a mattress that can help you deal with Fibromyalgia is:
Nectar Queen Mattress
This model is loaded with features and attributes that can provide optimal comfort along with pressure point relief. It molds to the sleeper's body and relieves any ache or pain. It is not extremely soft and the firm base provides the necessary support for proper spinal alignment. Apart from ultimate comfort, this is a steal deal.
It comes with a 180-night trial period and a lifetime warranty. This means any damage or defect you can get easily resolved. Therefore, we would recommend this mattress for Fibromyalgia but it is a great deal for other requirements as well.
Frequently Asked Questions
Can Side Sleepers use a Firm Mattress?

It may be a choice. Generally, side sleepers prefer support to shoulders and hips; they use a soft mattress, but for heavier sleepers, a firmer mattress may be preferable as it prevents sinking due to the firm base.

Can Side Sleepers use adjustable beds?

Adjustable beds can be adapted to support whatever position you sleep in and therefore for side sleepers an adjustable bed can be a great choice. The adjustable beds can provide comfort to specific pressure points of your body and therefore, are an excellent option for side sleepers.

Do side sleepers snore less?

Side Sleeping can cure heavy snoring. It is also important to note that the majority of people with chronic snoring also suffer from sleep apnea. Side sleeping helps considerably in preventing snoring as the position does not allow the base of the tongue to collapse which may narrow or obstruct the air passage. If the patient does not show any relief by changing the sleeping position, a medical practitioner's advice on diagnosing the underlying issue is vital.
Final Thoughts
There cannot be one unanimous choice but we have listed a few options to help you shortlist one for you.
Ideally, we would like to suggest starting with our mattress buying guide (see above) and picking up the one which suits your requirements. Share with us which one you have selected. Also do let you know if you have any feedback on our article so that we can improve and help our readers.
Related Topics: