Disclosure – We rely on reader support to run SleepMattressHQ.com. If you purchase products using our links, we may earn a commission. Click here to read about our process.
The most common issues faced by side sleepers are early morning stiffness in the neck and/or in the back. Although the stiffness easies out in the next few hours but such issues if not taken care of can lead to bigger problems.
Hybrid mattresses have seen a lot of innovation and research in the last few years. Broadly speaking, hybrid mattresses tend to suit all types of sleepers including side sleepers.
"You can go wrong in selecting the right mattress if you don't know the firmness of the mattress your body needs."
If you are looking for a hybrid mattress for a heavy side sleeper, we have a dedicated article on SMHQ with more hybrid mattress options.
Here are our top recommendations for side sleepers who prefer a hybrid mattress.
List of Top Hybrid Mattresses for Side Sleepers
Standout Features to Consider
---
Leesa Hybrid (Sapira) Mattress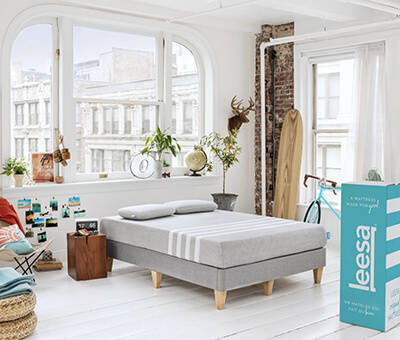 Premium Avena form top layer with holes for cooler sleep and hug.
Memory foam layer for pressure relief and body contouring.
More than 1000 quality 6-inches wrapped pocket coils for excellent edge support.
Iconic breathable stripped Leesa cover.
Made in the USA.
100 night trial period.
CertiPUR certified.
10-year warranty.
Leesa hybrid mattress ( formerly Sapira ) is an 11-inch mattress with 5-layer construction.
The top layer is a premium 1.5-inch foam layer for cooling effect. The second layer is again 1.5-inch of memory foam for body contouring. The base of the mattress comprises 6-inches 14.5 gauge pocket springs. To support the pocketed coils, there is a 1-inch high-density foam base.
The mattress provides soft to medium-firm firmness. It is ideal for side sleepers as the first two layers with 3-inches thickness provide a hug and pressure relief at the shoulders and hip area.
It has the potential to reduce your existing lower back pain.
In the times when we are going through a Coronavirus pandemic, Leesa's no contact delivery is much appreciated.
What We Like
Motion Transfer: Being a mattress with encased coils as a base of the mattress, the mattress work so well that effectively there is zero motion transfer.
Back Pain: If you are want to replace your existing mattress because of back pain or waking up with morning stress in your back. Leesa Hybrid (Sapira) is our recommendation.
---
Brooklyn Aurora Cooling Gel Hybrid Mattress
Available in three comfort styles: soft, medium, firm.
TitanCool™ helps in maintaining optimal body temperature.
TitanFlex™ layer is responsible for pressure point relief.
Quantum™ Edge coils for better response and motion isolation.
10-year warranty.
Made in the USA.
CertiPUR certified.
With over 25years of experience in manufacturing mattresses in the USA, the company has always innovated in providing luxurious mattresses at half the cost of other competitors.
It is a 5 layer mattress crafted to last long.
On the top surface of Brooklyn Aurora, a 1.5-inch Copper Gel Energex™ layer is infused with TitanCool™ to regulate body temperature while you sleep. The cover uses advanced fabric to further enhance the cooling experience.
The TitanFlex™ layer is 2-inches dedicated to pressure relief and a 1-inches transitional layer for gel memory foam for deep compression support.
Quantum™ Edge encased coils are 1189 in number for bounce and support. A 1-inch high-density base foam provides durability and reduces motion transfer.
The mattress is CertiPUR certified and free from toxic materials. It comes with a hassle-free 10-year warranty.
What We Like
Affordable Luxury: It is a mattress extremely luxurious but it is pleasantly affordable and won't break your bank.
Hot Side Sleeper: For hot sleepers, pressure point relieving and effective cooling are the factors you cannot ignore. It works well on both fronts.
LUCID Hybrid Mattress
Sale
LUCID 12 Inch Queen Hybrid Mattress - Bamboo...
Budget-friendly (under 500) for Side Sleepers.
Odorless bamboo memory foam infused with charcoal and aloe vera.
Medium soft feel.
Need 2-3 days for off-gassing (non-hazardous) who are sensitive to smells.
10-year warranty.
CertiPUR certified.
Lucid is known for its approach to creating budget-friendly mattresses. It is a thick profile of 12-inches. The lucid hybrid mattress has 5 layers.
The top layer of memory foam (2-inches) has fresh feel properties thanks to bamboo charcoal infused into it. It is followed by a transition layer (1.5-inches) of foam infused with aloe vera. Both the layer work in tandem and eliminate odor and keep you fresh throughout the night.
The core of the mattress has high-quality encased coils with a thickness of 6.5 inches. The coils are sandwiched between 1-inches each of the support foam layers.
The mattress works well in providing pressure relief to the shoulder and hip areas. It has a medium-plush feel that cradles the body and provides ample support.
A special mention for the edge support as the mattress has 6-inches support foam for better response at the edges.
It is a medium-plush/soft mattress and if you are a heavy side sleeper looking for a firmer mattress then we have other two options.
What We Like:
Serious Contender: It is a recommendation for budget-conscious folks looking for affordable mattress options for the side sleeper.
Firmness: It is a medium soft mattress for lightweight and average-weight sleepers.
Edge Support: Surprisingly good edge support in the budget segment.
Why Hybrid Mattresses are Best for Side Sleepers?
Let us look at the key things that make hybrid mattresses the number one choice for side sleepers.
Arguably, the number one factor in choosing any mattress for side sleepers is the right firmness. Hybrid mattresses provide a balance with adequate support and firmness.
Average-weight side sleepers (under 220 lbs) need a medium-firm mattress. The top layer should be soft enough to provide contouring and comfort.
Here is a table to help you understand the firmness of the mattress based on how you weigh.
| Weight | Firmness |
| --- | --- |
| Light Weight (< 150lbs) | Soft to Medium-firm |
| Average Weight (150-220 lbs) | Medium-firm |
| Over Weight (> 220 lbs) | Medium-firm to Firm |
Innerspring coils form the base or the core of the hybrid mattress. The longevity of the mattress depends on the base of the mattress.
The coils should be of high quality with a good gauge. The number of coils is also a deciding factor.
Although most of the hybrid mattresses, if not all, have innerspring there are few good all-foam hybrid mattresses. As a side-sleeper, you will need a mattress that is comfy and responsive. All-foam mattresses lack responsiveness.
The hybrid mattresses have one or more types of foams. Usually, The core of the mattress has high-density foam for better support and holds the mattress base.
The top layer is generally a foam with an open-cell structure or gel-infused memory foam that is more responsive and provides contouring to the body. Depending upon the budget, you can opt for a hybrid mattress with Latex or gel-infused memory foam.
You need to know that latex on top tends to retain heat so if you are a hot sleeper with frequent sweaty nights or hot flashes. It is best to opt for a cooling hybrid mattress with gel-infused memory foam.
The most hybrid mattress does not have any specific requirement for a bed base or foundation. They can be used on almost all kinds of surfaces. It is always good to cross-check the specifications to avoid returns.
Related Topic: