Disclosure – We rely on reader support to run SleepMattressHQ.com. If you purchase products using our links, we may earn a commission. Click here to read about our process.
No longer are adjustable beds restricted to hospital rooms. It is not uncommon nowadays to find adjustable split king mattresses in bedrooms across the globe, helping people sleep better. These beds can completely change your sleeping experience.
"With an adjustable base split king bed, a button is all it takes to adjust the bed- no hassle and no mess."
Are you the one who likes to read in bed comfortably for a while? Click the button, and the mattress will be raised. If you get tired, you can put it back in the right place.
Additionally, adjustable beds can provide relief from snoring, chronic pain caused by arthritis, back pain, and conditions such as congestive heart failure. Besides easing pressure points, they also promote blood circulation.
Yet, it's not always easy to find a bed that suits your sleeping needs, since there are so many made and sold. If you've decided that a split king bed is a good idea for you and your spouse, the next step is to choose the mattress and base that you want to buy.
There are many options to choose from. To simplify your choice, we put the effort into the research process to save you time. Listed below are varieties of split king adjustable beds for different conditions and needs.
Editor's Pick: GhostBed's Split King Adjustable Set
Ghostbed Adjustable Base is one of the luxury products offered by GhostBed. The adjustable beds come in twin XL, queen, and split king sizes. If you're looking for a split king mattress, GhostBed offers a discounted bundle package that includes an adjustable base and a mattress of your choice.
The Ghostbed Adjustable Base comes with two wireless remotes, four USB charging ports, and under-bed LED lighting. Through the wireless remote, you can adjust the mattress's head and foot to the desired angle. It also offers a range of upper and lower body positions.
A zero-gravity setting is also available for patients with lower back pain or high blood pressure. Moreover, presets for watching television or lounging are also available in the base.
The anti-snore feature – which elevates the head slightly while keeping the rest of the bed flat – is helpful for people who suffer from sleep apnea.
The bed base is also equipped with massages on both sides. 15 different massage modes are available based on intensity and area of focus.
What We Like
This combo deal on a split king adjustable bed is a steal and hard to beat.
There are many premium features built into this split king adjustable bed, including massages, presets, USB ports, and under-bed lighting.
The base comes with the wireless backlit remote featuring 2 massage units, 15 massage modes, and 3 preset positions (including TV, Zero-Gravity, and Lounge).
What We Don't Like
Amerisleep Adjustable Bed+
Amerisleep offers wall glide engineering technology and a non-skid surface that helps to keep the mattress from sliding on an adjustable bed. Its wall glide engineering keeps the mattress securely attached to the frame even when the angle of the base changes.
The non-skid surface and retainer bar work together to ensure your mattress will not shift about when the angle of the frame changes.
While other bases push you away from the wall when you raise them, this technology pulls your bed back as it raises. Therefore, no matter how you position your bed, your body will be in the same place, and the nightstand will be within easy reach.
The remote control makes controlling the base simple. The bed's wireless remote allows you to preset three positions, so it can adjust back to your ideal sleep position upon pressing a button.
Moreover, the remote control has flat and snore buttons. While the "Flat" button restores your bed to a flat position, the anti-snore feature raises your head to ensure that airways are open and that you won't snore.
Amerisleep provides a 10-year warranty covering manufacturing defects, but the base does not offer a sleep trial period or a return policy.
What We Like
It provides a rolling wave massage with three intensity levels which provide full-body relaxation.
The Wall Glide design allows you to keep your nightstand within easy reach while raising your adjustable bed.
What We Don't Like
The construction of the Amerisleep Adjustable Bed+ uses premium materials, making it slightly more expensive than some other options you may be considering.
Zoma Adjustable Bed
The next product we recommend is the Zoma Adjustable Base. Zoma Adjustable Bed Frame paired with Zoma Mattresses offers reduced pressure points. As opposed to other adjustable bases, the Zoma adjustable base performs ultra-quiet operations, so you can change your position without disturbing anyone.
Zoma frames add the capability to adjust the position of the head and feet, with a programmable remote that can save preset positions. Additionally, the frame has charging ports and is compatible with most bed frames.
Being a value for money split king adjustable bed is one of the best things about this base. It offers many fun features to improve your sleep, and it costs hundreds of dollars less than other similar high-quality adjustable frames.
Starting at only $840 (before discount), you can certainly get a budget-friendly base. Moreover, it is protected by a 10-year warranty, so you can be sure your investment is protected.
What We Like
Its whisper-quiet motors and backlit remote allow quick and easy night-time adjustments.
Zero-Gravity presets help you find the right sleeping position.
Setup is easy and quick, with no tools required.
What We Don't Like
How to put Sheets on a Split King Adjustable Bed?
Adjustable beds allow you to raise your head and feet for maximum comfort. However, this same movement can cause your sheets to shift. Shifting bed sheets can be annoying and can cause disruptions to sleep.
In most cases, sheets need to be flat and tucked under the mattress. The sheets frequently bulk up in the middle and the edges may slip off when you elevate your head or feet. To keep sheets on an adjustable bed in place, you must purchase the right size, quality, and features. With an adjustable bed, you will need fitted sheets with deep pockets, straps, or fasteners to keep your sheet in place.
Deep-pocket fitted sheets
Flat sheets can come off easily when the bed tilts. The simplest way to keep sheets on an adjustable bed is to purchase fitted sheets that have extra-deep pockets. To ensure that the sheets do not slip, they have strong elastic edges.
Adjustable Bed Sheet Suspenders
The sheets are clipped underneath the mattress using elastic bands with locking mechanisms at both ends. With adjustable bed sheet straps or suspenders, the sheets stay on the mattress regardless of bed movements.
High-Quality Elastic Bands
In some sheets, elastic bands are sewed into the edges. When you raise and lower your adjustable bed, these elastic bands tuck under your mattress and keep your sheets tight. Often, sheets have elastic bands at all four corners that help keep the sheets snug around the mattress.
How to dress a Split King Adjustable Bed?
The process of putting sheets on Split King Adjustable Bed does seem to be similar to regular beds. However, a detailed explanation of the process of putting sheets on adjustable beds is necessary.
Both parts of your adjustable split king bed need two separate fitted sheets.
Make sure that the dimension of your sheets is such that it fits snugly around your mattress.
Take a single sheet and drape it over one part of your split king adjustable bed.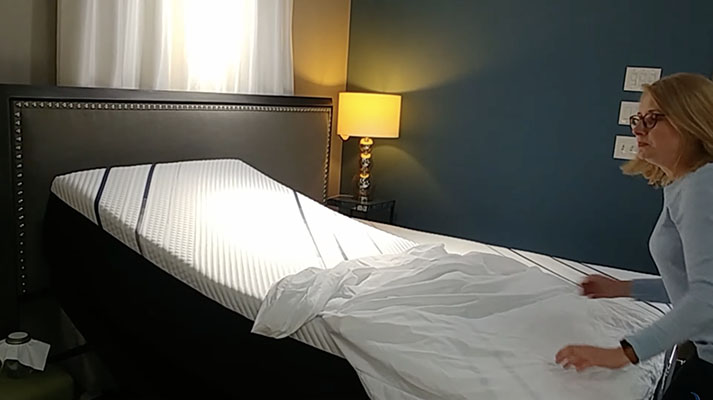 Then, to prevent the sheet from moving, firmly place the elastics underneath the mattress.
Sheet fasteners can be added to your sheets if you wish for extra security while tossing and turning during the night.
Here's a Bonus Tip: While putting on your sheets, lift the foot and head of your adjustable base. Since the mattress will lift off the base, it will be much easier to grab the sheets and get underneath the mattress.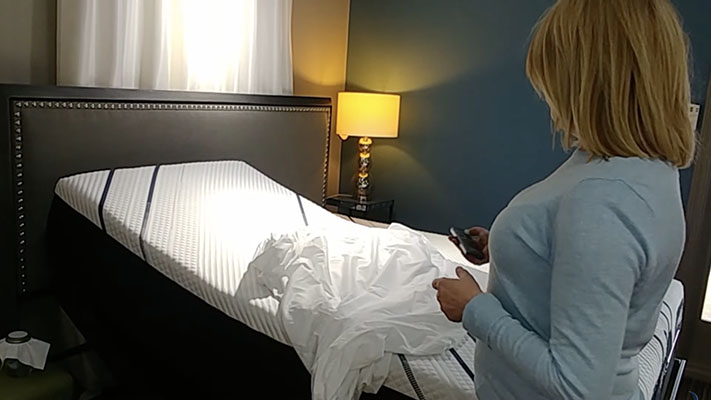 Conclusion
The Split King Adjustable Bed is the preferred choice of many people when it comes to comfort. It will allow you to sit up straight, and watch Netflix without having to worry about a nasty crick in your neck. With the click of a button, you can reduce pressure on your lower body.
They are also a great option for couples who can't find a suitable king-size mattress that fits both of their needs. The mattress type and feel you each prefer can be chosen without the need to sleep in separate beds.
An adjustable split king bed is a terrific investment for people who change sleeping positions during the night. To get the right mattress, you need to do some research and find a bed that is well-made, backed by a great warranty, and has features you can use.
With a good split king mattress and a high-quality adjustable base, you get a peaceful and healthy night's sleep.