Disclosure – We rely on reader support to run SleepMattressHQ.com. If you purchase products using our links, we may earn a commission. Click here to read about our process.
An increasing number of people are becoming aware of the benefits of adjustable beds. Most seniors and elderly people prefer them over any other bed now. In this article, we will discuss some of the best adjustable beds recommended for the elderly in 2022.
We will also go into the details of why seniors suffering from chronic sleep-related issues can get some relief if they sleep on them.
They are not those boring hospital beds that remind you of pain and suffering. Instead, they come with the same advantages and are aesthetically pleasing.
As a senior, you probably worry about your health, especially as you age. Furthermore, you probably have aches and pains that make it difficult for you to sleep. Adjustable beds can help prevent snoring or conditions like sleep apnea or any obstruction in your respiratory system while you sleep. So one of the better ways to deal with these issues is to switch to a new adjustable bed.
What are the best adjustable beds for seniors?
List of Recommendations
Best Overall: GhostBed Adjustable Bed Combo Bundle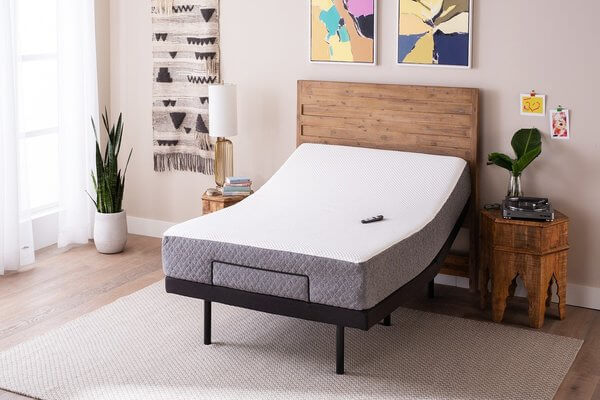 Lifetime Warranty
Wireless Remote
Dual Foot & Head Massage
Zero Gravity Position
Under-Bed LED Lighting
USB Ports for Charging
Made in the USA
The GhostBed Adjustable Bed is a great option for Seniors looking to replace their spring or foam mattress. It's a perfect balance between comfort, support, and innovation. We have selected the combo bundle as it is a deal hard to ignore specifically for those looking for an adjustable base and new adjustable mattress.
The bundle includes a base and mattress and it can be customized with any Ghostbed mattress depending on your needs. If you're a hot sleeper, we recommend Luxe or even better 3D Matrix since it boasts patented technology that most sleepers need.
The base has some incredible features like zero gravity and massage and is a must-have in any bed base. Many elderly are switching to adjustable beds post a medical condition but these can be useful to anyone. It provides comfort and reduces strain on your spine.
What we liked about it
A very sturdy bed with all the required features. Comparing it to other similar packages once you throw in the combo deal, it is hard to ignore.
Leggett and Platt Prodigy PT 3.0 (2021 Model)
Legget and Platt as a company have quite a reputation for being a leader in providing quality products in the bedding industry and sitting solutions in automotive. It won't be wrong to say that many people looking for an adjustable bed opt for Leggett and Platt for its years of trust-building.
Prodigy 3.0 is a new model in the Prodigy series and a step up from previous generation 2.0. It has all the bells and whistles but one feature that makes it stand apart is zero clearance with a foundation style base.
What exactly is Zero Clearance in Prodigy 3.0?
This base is designed to work with any headboard, footboard, or rail and can be used without legs on a bed frame configured with drawers.
It comes with all the typical features associated with high-end adjustable beds. It has wall hugger technology that includes a fully customizable motorized head and foot, a massage feature, and wireless remote control with preset memory positions.
L&P has also included light under the bed like many other brands. It has a weight capacity including a mattress is around 850lbs. Although it comes with a fully functional wireless remote you can also operate through a smartphone app using BlueTooth.
The Pillow tilt feature allows you to make adjustments to the head area thereby eliminating the need for extra pillows. There is a one-touch button for flatbed positioning and pillow tilt is an operation in this mode as well.
What we liked about it
An affordable yet feature-rich option from L&P. Although the 3.0 version does not have whisper-quiet motors (available in Prodigy CE) but given the price point many customers are not going to miss that option.
LUCID L300 Adjustable Base with Mattress
Sale
We can recommend the L300 as one of the most affordable adjustable beds for seniors. With a price tag of around $1000, it is a complete solution that includes a mattress. With an extra $80, you can upgrade the mattress from 10 to 12 inches, which we think you should.
Although the legs appear fixed out of the box, you can unscrew them and replace them with the height you prefer. Online stores like Walmart offers legs ranging from 8.5″, 5″ to 3″.
It offers a head inclination of 60 degrees and a foot inclination of 45 degrees which is useful in providing pressure relief throughout the night if you suffer from back pain.
L300 can memorize your favorite sleeping position. It's as simple as holding the memory button and the flat button together.
What we liked about it
It is one of the top sellers on Amazon with many happy customers. The Lucid L300 adjustable bed is one of the best budget-friendly options for seniors on a limited budget without compromising on important features.
Tempurpedic Ergo Extend Smart Base
Tempur products are known for their quality, comfort, and long life. However, it can be a challenge to select the right product for your needs from the lineup.
We have selected Ergo Extend Smart Base for some of its features that are exclusive and are not available in any other mode. As the name suggests, this is a smart adjustable bed base. It has an AI-based sleep tracker that gives you suggestions on your smartphone tailored to your needs.
It massage system is divided into 4 zones for more targeted relief. With multiple ergonomic positions, its use is not limited to restful sleep. There are specific positions you can choose to relax on it, whether it is watching television or reading your favorite book.
What we liked about it
The bed is can be your primary relaxing option during the day and night. It is the smart features and massage functions that stand out. AI functions are not gimmicky but help improve sleep and lifestyle. An automatic snoring response that raises the bed by 12 degrees when it detects snoring is extremely useful since it does not disrupt you and your partner's sleep.
Benefits of Adjustable Beds for Seniors
Adjustable beds offer many benefits for the elderly, including convenience, comfort, and safety. The most obvious benefit is the fact that they're adjustable: you can raise or lower the head of the bed, or even raise the whole bed itself.
Back Pain Relief: Good adjustable beds are more advanced than other beds when it comes to offering these benefits. They provide users with an easier way to raise the head and foot of the bed and relieve pressure on their backs. This also makes it easier for the blood to flow and blood circulation to improve.
This makes resting more relaxing and pain-free because the pressure on different parts of the body is distributed by them. This reduces back and joint pain, which can improve sleep quality and overall lifestyle.
Mobility: You can get into your bed more easily by reducing the distance you have to climb. The bed can be adjusted so the side rail is at the ideal height, which makes it easier for the user to access the bathroom at night and to get out of bed in the morning.
Many senior citizens have arthritis, heart disease, back problems, and other medical conditions that make sleeping and getting out of bed difficult. Adjustable beds can be a big help and make a difference.
Those living alone or with a partner as old as them can ease the process of eating and drinking.
Zero gravity: It is one of the most notable advantages of adjustable beds. Also called tilt position, zero gravity is a state in which a person feels weightless.
Zero gravity can help reduce neck pain, joint stiffness, and pain for seniors, as well as improve circulation and reduce pressure points. Just by pushing a button, all this is possible. Many tend to contemplate due to the higher price tag attached, but they are worth it.
Relaxing: Adjustable beds are advantageous for people with health conditions, but many disregard their benefits for those without health conditions.
With adjustable beds, you can lie down or sit up comfortably in bed. You can read, watch TV, or surf the internet in bed too.
How to Choose an Adjustable Bed for the Elderly
Positions: When selecting an adjustable bed, you should look at the number of positions it offers and the range of motion it is capable of providing. For example, some beds are only adjustable in one position, or they limit the range of motion you can get out of the bed.
Best adjustable beds offer both flexibilities in positions and range of motion. It is especially crucial if you intend to share a bed with multiple people.
Programmable remote control: Sometimes we can't get out of bed to adjust our bed's position, either because we're too tired or can't get up. It results in a stiff neck or back, not to mention a bad night's sleep. Luckily, there's an easy solution: an adjustable bed remote control. These nifty gadgets let you adjust the bed at the touch of a button, so you can set the perfect sleeping conditions.
A wireless remote makes adjusting an adjustable bed easy for seniors with limited mobility while still being able to achieve convenience.
Weight Capacity: A bed's weight capacity is something you should consider before buying one. It ranges from 600 pounds to 1,200 pounds and depends on the manufacturer. Each manufacturer will determine its weight capacity recommendation for each adjustable bed.
It is important to note that your adjustable bed's weight capacity refers to its maximal weight capacity, including the mattress.
Mattress Type: Before you spend your money on an adjustable bed, make sure you purchase the right type of mattress to go with it. Not all mattresses are designed to work with adjustable beds. Some mattresses are specifically designed for adjustable beds, while others aren't.
Traditional innerspring mattresses shouldn't be used with your adjustable bed. The coils in these mattresses shift when moved, causing your body to sink into the mattress, which makes it difficult to roll over and move around.
The ideal mattress to use with them is a latex or memory foam mattress, but hybrid mattresses can also be a good option.
The best discount is usually on mattresses and frames together, since most companies offer them in combos. Be sure to keep that in mind when purchasing.
FAQ
All adjustable bed bases are non-refundable regardless of the brand.
Related Topics