Disclosure – We rely on reader support to run SleepMattressHQ.com. If you purchase products using our links, we may earn a commission. Click here to read about our process.
There are quite a few people who don't get a restful night's sleep. Their common complaint is snoring and other respiratory problems. Its effects are not limited to one individual, the cosleeper has frequent interruptions throughout the night.
The snoring may not affect the sleep cycle and sleep architecture but heavy snorers tend to feel lethargic throughout the day.
Contrary to popular belief, snoring does not mean that person is in deep sleep.
To reduce snoring or other issues like sleep apnea, it is recommended that one should sleep on an incline. Sleeping on your back on a flat surface will get it more aggravated.
"Do adjustable beds help snoring?"
Absolutely, adjustable beds are designed for better sleep and relaxation. It is the best option to elevate the head to the desired level. There are different presets positions available at the touch of the button including anti-snore.
We tested out the best adjustable beds available right now and filtered out the ones best for snoring. Let us look at them one by one.
Editor's Pick: GhostBed Adjustable Base
GhostBed is our editor's choice and a difficult one. The others products featured in our list are strong contenders for the same tag. Its affordable price tag along with the features makes GhostBed a preferred buy.
Many people suffer from insomnia. There are underlying medical issues and factors within our control that can help. Opting for an adjustable bed is one such choice you need to make in your lifestyle.
The GhostBed Adjustable Base is easy to use and set up. It helps you elevate your head that opens up the breathing passages and provides easy oxygen. This reduces the chances of triggering asthma attacks and snoring.
An adjustable base elevates your upper body and keeps stomach acids at bay. Studies show that around 7 inches of elevation help people who frequently complain about acid reflux or heartburn.
It has a zero gravity position that keeps the head and legs elevated in such a way that it balances out the effect of gravity. It makes the task of pumping blood to various organs easy and thereby less pressure on your heart.
The reason why people snore on an adjustable bed is that the head not optimally raised.
The massage feature can be a gimmicky one for a first-time buyer. But it is helpful in relaxing your aching muscles. GhostBed has dedicated three massage modes with an option of head and foot separately.
What we like
Remote operability.
Zero gravity Mode for overall better sleep.
Anti-Snore mode.
Massage options.
Led light under the bed.
Extra accessories like headboard available.
Lifetime warranty (missing from other major expensive brands)
What we don't like
No trial period or option to return.
Yaasa Adjustable Bed
This is another option highly recommended for its features, aesthetics, and unbeatable price. It has a minimal design and with current discounts, it can be grabbed under $2000 for a split king.
It has an anti-snore preset available at the touch of a button on the wireless remote. It has wall-hugger technology that is an added advantage for those who love to lounge in the day.
Surprisingly, it is an odd one out in the market that has a free return option. It is important to note that usually adjustable frames are not returnable but not in the case of Yaasa.
What we like
30-day trial and Free Return.
The angle of head adjustment is 60 degrees and 28 degrees for the foot.
Under-bed lights.
What we don't like
The massage option is missing.
PlushBeds M555 Adjustable Base
PlushBeds have few options to choose from and M555 is the best value for money. It comes with 5 preset options that including zero gravity and anti-snore. Apart from those two, it has a lounge, TV, and flatbed presets.
Vibrational massage is another feature we loved using. It comes with three intensities and three-time settings for more flexibility to suit varied needs.
The anti-snore and zero gravity preset does offer snore relief and will help you raise your head to the desired level.
What we like
Backlit wireless remote control that is useful at night.
MALOUF® Base app is available in android and ios operable via built-in Bluetooth.
The under-bed night led light for the soft dim light in the room.
Battery back up.
20-year warranty.
What we don't like
Nest Beddding Reverie Adjustable Power Base R400
After a long tiring day, all you need a relaxing time. The R400 is the right balance of features and price. You can relax on the bed with your head and feet raised reading your favorite book or just chilling on Netflix.
It comes with 3D-wave™ massage, zero gravity, and anti-snore features available at the touch of a button or through the Reverie nightstand app.
The motors in the base are almost silent and noise-free. You can adjust your head and foot to the precision you want.
The timer-based massage is all you need without worrying about switching off the massage option if you fall asleep. The 3-D waves relax and alleviate any pain in the body.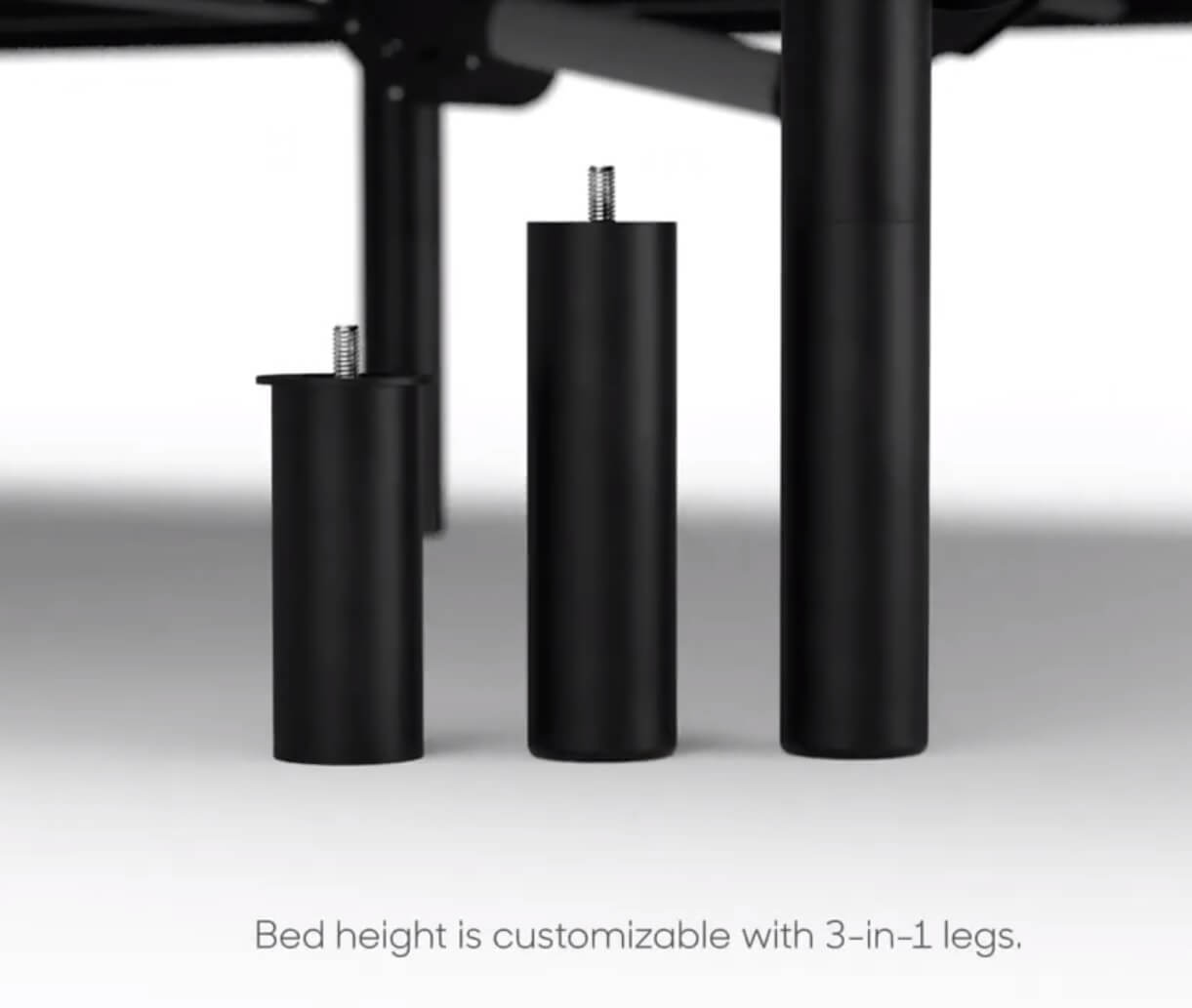 The height of the bed can be a deal-breaker for few customers and to cater to that requirement, R400 comes with customizable 3-in1 legs.[ADD PICTURE FROM Video]
It is shipped folded in the box so that makes it a breeze to unbox and set it up.
What we like
Two Programmable presets.
Power-down feature if there is a power failure.
Under the bed light.
Great Service support by Reverie.
20-year limited warranty.
What we don't like
DynastyMattress DM9000s Adjustable Bed Frame
DM9000s is available on Amazon with dual options of with and without setup. It is designed for more lifestyle-centric consumers with added features.
It comes with Bluetooth-enabled speakers and a subwoofer, microhook system, and under-bed led lighting. DynastyMattress adjustable bed base has programmable massage presets including full body massage.
It comes with a wireless remote and has a USB port for recharging your mobile. It has adjustable legs and the overall height of the base can vary between 14" to 18".
The base has 4 comfort zones that provide independent lumbar support, head tilt, dual massage, and head/foot massage. It is a heavy-duty product designed to provide competition to popular Leggett & Platt Prodigy.
Zero gravity position and the elevation of the upper body helps in reducing snoring.
What we like
Better lumbar support that alleviates back pain.
Adjustable legs.
Independent head-tilt option.
What we don't like
Not returnable
No dedicated Anti-snore button.
Tempurpedic TEMPUR-Ergo Extend Smart Base
It is the best option for someone who is healthy but snores at night due to head position. It has an inbuilt sensor that detects snoring and raises the upper body by 12 degrees to clear the air passage.
Tempur-Ergo Extend Smart Base is a premium option in the market. It is almost twice the price of any adjustable bases listed above. The other premium features include smart home compatibility with other smart home devices including voice commands.
Sleep tracker provides detailed information about the quality of sleep so that you can make the required adjustments for better sleep.
The 4-zone massage is the best in the class and the ergonomics of the bed are worth mentioning here. Perfect Tilt and Perfect Seat are exclusive features limited only to Extend Smart Base.
What we like
The sensor detects snoring and automatically raises the head.
Sleep tracker.
Adjustable height of the bed.
Smart home features.
What we don't like
Expensive.
Not returnable.
How Adjustable Beds are Good for Snoring?
Adjustable bed bases have many advantages over traditional flatbed foundations. Snoring is one of them. There is a lot of misinformation on the internet and the most common question is "Do adjustable beds really help with snoring?"
The simple answer is yes they do.
Below of the factors that explain how they help.
Adjustable bed help in elevating the head to the right degree that sometimes is not possible by placing an extra pillow or wedge pillow.
Sleeping on the back is the number one reason for snoring as you lie flat on the bed. Adjustable beds help in raising the head and feet for a comfortable sleep.
Zero gravity position is the best position to sleep and it helps in reducing snoring. It is a neutral body position where the head and feet are raised slightly above the stomach level. It helps in clearing the airways that reduce pressure on the lungs. The lungs can work to the full capacity without exerting. This is beneficial to some who have respiratory issues including snoring.
Related Posts:
References: