Disclosure – We rely on reader support to run SleepMattressHQ.com. If you purchase products using our links, we may earn a commission. Click here to read about our process.
Adjustable beds have, over the past few years, become very popular. The demand for them in hospitals is expected to reach $5.2 Billion by 2027. And they are not limited to hospitals but are fast becoming part of our homes.
The versatility and customizable nature of these beds have caught the eye of many customers looking to buy a new bed.
This is because of how easy to use and comfortable these beds are if paired with the correct mattress. However, this is the tricky part.
Choosing an appropriate mattress for an adjustable bed is not that easy. Hence, we have come up with a review of some of the best adjustable bed mattresses that can be used with your best adjustable base.
We have also included a guide to buying a mattress for an adjustable bed frame
List of 5 Mattresses for Adjustable Bed Mattresses
Reviews of Top 5 Adjustable Mattresses in 2021
Nectar Mattress
Sale
Nectar Queen Mattress 12 Inch - Medium Firm Gel...
It is an 11" full memory foam mattress with a medium-firm firmness
Recommended for those who suffer from back pain and arthritis pain.
They have an industry-leading 'forever' warranty period of 10 years.
This mattress does exceptionally well in inhibiting motion transfer.
The Nectar mattress is an industry favorite memory foam mattress, most suited to an adjustable bed frame. Made up of 5 layers, the mattress has a very soft and comfortable Tencel cover.
The adjustable base is also a customer favorite as it allows airflow to be directed into the mattress. The mattress also gives you a 'sinking' feeling, without compromising your spinal adjustment or comfort.
It provides quite a strong edge support. Due to the mattress' cooling layer of gel memory foam, the mattress allows its sleepers to sleep cool and comfortable.
Nectar is designed to accommodate all types of sleepers and hence works the best for combination, back, and side sleepers who weigh below 230 pounds.
In our recent research, the mattress has been helpful in individuals who wake up with a stiff back. The mattress is soft and comfortable' which ensures a good night's sleep.
The adjustable frame, the ease with which you can set the mattress up, and the efficient customer service all connotate superb quality.
Why you should buy it?
We recommend buying this mattress specifically if you are below the weight bracket of 230-250 lbs. It is also helpful if you suffer from back or arthritis pain.
This simple and budget-friendly mattress helps you sleep cool and also helps you sleep soundly because of its minimalistic motion transfer.
Its warranty and pricing policies make this mattress a true 'steal' for its quality- ensuring comfort and a good night's sleep at minimum risk.
Amerisleep AS3 Mattress – Best Adjustable Mattress for Couples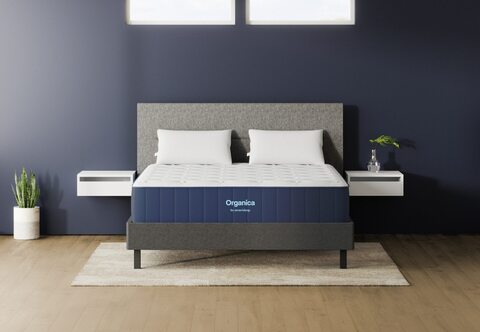 All-foam 12" mattress with a balanced foam feel.
Medium-firm.
The Bio-Pur foam layer.
Breathable cover.
Breathable 4-layered eco-friendly mattress.
Why we like
This mattress is best known for its Bio-Pur plant-based layer which makes this mattress not just eco-friendly but also pressure-relieving, soft, and comfortable.
This mattress is responsive and extremely breathable. It also provides decent edge support and is extremely suited to the needs of couples who have sex regularly.
This mattress is usually also rated a 4.5/5 when it comes to its durability as it stays, without sagging for a considerable period.
The mattress also is well-liked for the contour it provides because of its hexagonal design– which is tailored to provide more support to the lighter areas of the bodies and be softer for the heavier parts of our bodies.
The 100-day sleep trial period and 20-year warranty also attract multiple buyers. Customers have also stated that this bed is 'comfortable' and provides them with a 'good night's sleep'.
Why you should buy it?
You should pick this mattress if you are an environmentally conscious buyer who is looking for great value for your money.
Moreover, if you sleep hot and want a more breathable bed- we recommend this mattress for you. Its warranty period and durability also ensure that the purchase of this mattress would be low risk.
Additionally, If you are a heavyweight sleeper then this mattress would work well for you. And if you are a light sleeper- or you sleep with somebody else, we would recommend this mattress as one meant for couples.
Tuft and Needle Mattress
Why we like
The Tuft and Needle mattress are extremely suited to adjustable bases. It is an affordable mattress that comes along with a 10-year warranty and has a 100-day sleep trial.
This mattress has minimalistic motion transfer and a very soft and breathable cover. Tuft and Needle provide its sleepers with a balanced foam feel– which essentially means the center of the mattress is firm and the edges are softer.
Hence edge support is average. For further details, you can check the full review of the Tuft and Needle mattresses.
Many customers have loved this mattress and have found it extremely snug and pleasurable.
Why you should buy it?
T&N mattress is meant for lightweight and average-weight sleepers. It is also recommended for back sleepers.
Though some individuals who weigh above 230 pounds may find a lack of support. In our research, past customers have given an overwhelmingly positive reviews. It has been found that 95% of sleepers keep their mattress even after their 100-day trial period.
You should buy this mattress because it meets all your sleeping needs while also being one of the most affordable foam mattresses on the market.
Why we like
The mattress is well-liked by customers because of its latex material- which allows sleepers to move around and also sleep cool.
A conscientious buyer also prefers this mattress because it provides relief to the back and their pressure points while also being eco friendly
This mattress is meant for those who are average-weighted and light-weighted. Those who weigh over 230 pounds and are stomach or back sleepers have found this mattress to be unsuitable for themselves.
The comfort provided by the mattress and the flexibility in choice make this mattress well-liked and popular
Why you should buy it?
There are a few reasons you should buy this mattress. Firstly, the mattress is eco-friendly and is covered by a material that is a natural flame retardant.
Secondly, being a latex mattress, it keeps away moisture and helps you sleep cool. The mattress also easily molds to your firmness requirements.
Thirdly, If you are a lightweight/average weighted combination sleeper– then this mattress would allow you to sleep quite comfortably while also keeping your spine aligned and supported
Zoma Mattress
11" Thick Zoned mattress.
Support both the back and the stomach sleepers.
Good for light- medium-weight side and back sleepers.
Breathable cover.
Recommended for athletes.
This mattress is slow-moving and has a slight bounce.
Why we like
Zoma is the new kid on the block- a very up-and-coming mattress. But it has been raved about by multiple athletes and fitness models for its pressure relief properties.
Zoma mattress targets 8 pressure points with its triangular foam design. Its slow-moving feel has also been complimented by those who like a mattress that takes a few microseconds to return to its original shape.
Customers have reported that this mattress works well for tall people, and have referred to how 'soft' the mattress is. The mattress touts itself as medium-firm in its feel, hence the sleepers find this mattress to be both comfortable and firm
Why should you buy it?
You should buy this mattress if you are looking for a mattress that excels in relieving pressure. It is a good fit for light to medium-weight individuals who require regular pain relief.
The mattress is priced at under $600 for a twin bed which can be a pocket pinch for some customers.
You should also buy it if you are a combination sleeper, looking for a durable low-risk purchase. The 10-year warranty and 100-day sleep trial make this mattress a viable option.
What is an Adjustable Bed?
An adjustable bed allows the sleepers to change the alignment of the bed to meet their specific needs. It is essentially a multi-hinge lying surface.
This bed frame was primarily meant for those who were elderly and had chronic pain and mobility issues. However, because of its ability to provide choices to sleepers- this bed has become a popular choice among all types of individuals.
Pros and Cons of Sleeping on Adjustable Bed Mattress
PROS
The pros of sleeping on an adjustable bed frame are the following:
It helps improve circulation by lifting a part of the body of the sleeper.
It can be used to relieve chronic pain issues.
Helps you read and watch TV comfortably, with just a press of a button
This bed type also reduces snoring. By elevating your partner's head, their airways open up making snoring less probable
This mattress is meant for all types of sleepers.
If you suffer from digestion issues, the alignments provided by this bed frame will help mitigate them
CONS
The cons of sleeping on an adjustable bed frame are the following:
They are more expensive than conventional bed frames however given the features of this bed frame, we believe it's worth it.
In a rare case of mechanical failure that may lead to the mattress being stuck in an awkward position.
This bed including the base is quite heavy and difficult to set up hence one may require professional help to set it up.
Types of Adjustable Mattresses
Memory Foam
Memory foam mattresses tend to form the shape and weight of the body. Such mattresses give phenomenal pressure point alleviation and ricochet back for incredible comparability.
Conventional memory foam beds are known for their heat maintenance and are the least eco-friendly option. They are also the most slow-moving
To decrease heat build-up, researchers have injected traditional memory foam mattresses with gel dabs, which makes the mattress cooler and more breathable.
Hybrid Memory foam mattresses suit adjustable beds well as they are flexible and can bend easily without damaging the construction of the mattress. This makes them the best adjustable mattress for adjustable beds as they require a mattress that can move along with the frame.
Latex
Latex mattresses are cooler than memory foam mattresses. Depending on the latex foam used the mattress can be bouncy or dense. These mattresses also provide contours well to the body of the sleeper and are also more breathable.
The Dunlop technique is the first method to make latex. The tree sap is raced into a froth, filled into a form, and afterward heated at a high temperature to make the rubbery substance. This makes it entirely strong and is preferred by sleepers who like a firm mattress.
The Talalay strategy makes the beddings more breathable and marginally bouncier. The initial step is equivalent to the Dunlop technique, yet the mold is set in a way where it does not reach the top. These mattresses are more breathable.
Like memory foam, Latex mattresses also suit adjustable beds because of their flexibility. Although relatively expensive mattresses, these mattresses are best for customers looking for a cooling mattress.
Innerspring Mattress
There are multiple types of innerspring mattresses however due to their construction many may not be suitable for adjustable bases. The one that does work well with an adjustable bed frame is the innerspring mattress with pocketed coils.
Each coil is disconnected from the other and paces in separate pockets. This makes the mattress more flexible and allows it to change its alignment more easily.
Hybrid Mattress
A hybrid mattress combines the features of a memory foam layer and one made of inner springs. It gives you both the contouring and pressure relief given by the former and the bounce given by the latter.
These mattresses are the best suited to adjustable bed bases but are slightly more expensive because they combined memory foam/latex with inner springs.
Air Mattress
An air mattress is only compatible with an adjustable bed base if it has multiple air chambers which makes it flexible and easily changeable.
When the mattress only has one air chamber, it makes it quite stiff and makes adjustability almost impossible.
Even if one manages to fit an air mattress onto an adjustable bed frame, the number of angles they can set their mattress to is very limited.
Guide to Buying Best Mattress for Adjustable Bed
Buying a comfortable plush adjustable mattress for an adjustable bed that meets all your sleeping needs is difficult.
If you are an ordinary customer with no background in the mattress industry, this short guide may be useful to you. Hence, the following are 5 simple points to keep in mind while buying a mattress with an adjustable base.
The thickness and flexibility of the mattress: The ideal thickness of the mattress is 10 to 14 inches tall. If the mattress falls below 10 inches then the mattress becomes too soft.
A soft mattress means a lack of support or spinal adjustment. A thicker mattress can be too firm and difficult to adjust and fit into an adjustable bed base,
Sleeping positions: Not every mattress is suitable for every sleeping position. This is because depending on the position you sleep the places where pressure would be applied on your body will be different.
A stomach sleeper will face pressure on the stomach and would need a mattress that is firmer at the center to ensure spinal alignment.
A back sleeper would face pressure on their back and would thus need a medium-firm mattress which would relieve pressure from the appropriate pressure points.
A side sleeper would feel pressure on their shoulders and hips and would also require proper support.
Size: Most of the mattresses that fit into the adjustable bed frame are available in full, twin, twin XL, queen, california king, and king. If the mattress you have is narrow or small or is on the complete other end of the spectrum then the bed base may not be able to support it as well.
Sleep trials and Warranty: Usually companies provide a sleep trial of 90-120 days. It is during this time you can test out the mattress and see whether it will fit into the frame.
If a sleep trial is not available make sure you can avail a refund as many mattresses do not fit and thus always need to be tried before finally being purchased. Moreover, the warranty (usually given for 10 years) must cover sagging and other manufacturing defects and thus needs to be checked for that.
Weight considerations: Not every mattress is suitable for every weight. Some mattresses are better for light-weighted individuals and some are better for heavily weighted individuals.
Buying a mismatched mattress may cause pain and discomfort. Hence, it is essential to do proper research before buying a mattress for an adjustable base keeping in mind the number on the weighing scale
FAQ
Final Thoughts
Finding a mattress for an adjustable bed that meets all the unique needs that you have as a sleeper is possible, even though slightly difficult.
These beds are becoming more popular day by day and for good reason. However, proper research is required to find a worthy mattress. A quick guide, like the one provided by us, is thus extremely important and useful in choosing the best adjustable bed mattress.
Our recommendation list is carefully selected to suit all kinds of shoppers and can be trusted if you are keen to buy one.