Disclosure – We rely on reader support to run SleepMattressHQ.com. If you purchase products using our links, we may earn a commission. Click here to read about our process.
There can be many back-related ailments that can cause back pain. With work for home culture forced on us and awkward sitting, postures have not helped us either. And once it becomes chronic or you frequently have to deal with it then the role of the mattress becomes paramount.
A latex mattress is not the first choice for a price-sensitive buyer. But when it comes to comfort and pain relief, you want only the best mattress for back pain.
There is always confusion among buyers regarding the best mattress type for back pain. People are willing to spend more on the best latex mattress for back pain.
But the most important question is
Is a Latex Mattress good for Back Pain?
Yes, the latex mattress is helpful for someone suffering from chronic back pain. Natural latex, like memory foam, is body conforming but without any usage of harmful chemicals.
Research has shown that your back needs a medium-firm mattress. A latex mattress is firm and breathable. Memory foam tends to retain heat and can lead to tossing and turning.
It helps in maintaining spine alignment and contours the body curves effectively. However, it is important to note that you look for organic and natural latex instead of synthetic one.
It is not uncommon to see prolonged back pain and uncomfortable sleeping positions can lead to other related conditions such as
Editor's Choice for Best Latex Mattress for Back Pain
PlushBeds Botanical Bliss – Organic Latex Hybrid Mattress
Available in dual firmness.
Available in 3 profiles/height.
Certified organic latex mattress.
GOTS and GOLS certified.
25-year warranty & free 100-night trial.
Botanical Bliss is our preferred choice if you are looking for all latex mattresses for back pain. Being eco-friendly and organic it stands tall with nine certifications including GOLS, GOTS, GreenGuard, Oeko-Tex, etc.
It suits all sleeper types and body types as it is available in three profiles of 9,10 and 12 inches of thickness.
The construction of the mattress is ideal for people prone to allergies. It has 5 layers, starting with the organic cotton cover followed by a layer of organic wool from New Zealand. This is a natural flame retardant and helps in keeping the body cool throughout the night.
The mattress has three layers of latex with a Talalay layer over the two layers of Arpico Dunlop derived from organic rubber trees of Sri Lanka. These Dunlop layers are responsible for firmness, support, and pressure relief.
It gives a floating feeling yet cradles the body curves to alleviate pain from the pressure points.
Why it is an Editor's Choice?
Botanical Bliss provides an ideal firmness that is required for someone suffering from back pain. PlushBeds have made this choice easy for its customers by providing medium-firm and firm options.
For a light-weighted person, the medium will work the best and for heavy-weight people, the firm option is the best.
Other Reliable Mattress Recommendations
Latex for Less Latex Mattress
All Natural Latex mattress.
Dual firmness option.
Available in two profiles.
120-night trial.
20-year limited warranty.
Certified by GOTS, Oeko-Tex Standard 100, and Eco-Institut for purity.
One of the quality affordable latex mattresses available on the market right now. It is an all-latex mattress with an option to choose either a 9-inch or 7-inch thickness.
It comes with a certified organic cover that is super soft and stretchable. It has 3-layer construction with a top and last layer comprising ½-inch 100% natural wool that acts as fire-resistant.
The next layer is a 2-inch medium 100% natural Talalay that is adequately responsive. The base is firmer and made with 100% natural Dunlop latex (6-inch) that provides support and comfort to the back.
The density of latex makes an ideal combination that helps in back pain. The firm latex is 36 ILD, Talalay N2 is 19 ILD, and soft Talalay N1 is 14 ILD.
Nest Bedding Natural Latex Hybrid Mattress
Hybrid design with premium coils.
Three firmness options.
CertiPUR-US® certified.
100% natural OEKO-TEX® Standard 100 latex.
Made in the USA.
Nest Bedding's Latex hybrid mattress is designed to last long as it comes with a zipper cover so that you can easily replace the comfort layer. This makes a lot of sense as wear and tear are common in all mattresses. And it is the top layers that tend to wear easily as they are in direct contact with the body pressure.
The mattress is made up of coils as the base so it is a heavy mattress but the manufacturer has provided handles at the side for easy maneuvering. It is recommended to rotate and flip the mattress every 6 to 8 months.
The construction of the mattress is unique with 1" organic stretch knit cotton and Joma wool followed by 1.5" of eco-flex quilting foam. The next layer is a certified Dunlop layer of 3 inches. The base of the mattress is pocketed coils sandwiched between 1" each of comfort and support foam.
The combination of latex and coils make it extremely breathable and airy. People who prefer responsive mattresses will appreciate this bedding due to the presence of both these materials.
Why it is on our list?
The mattress comes with a lifetime warranty and a 100 night trial period. Most importantly it is available in 3 firmness options ie. plush, medium, and firm. It gives the flexibility to choose the right firmness according to your needs. Stomach sleepers and back sleepers can happily opt for medium or firm options.
It is value for money latex bed and does take proper care to alleviate pain from pressure points.
Amerisleep Organic Organica Latex Mattress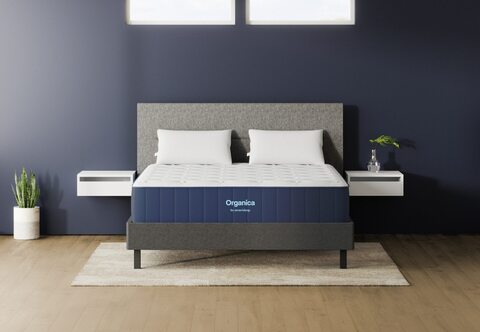 Eco-friendly Latex Hybrid Mattress.
Certified Organic Latex mattress.
Made in the USA.
20-year warranty.
Amerisleep Organica launched in 2021 was a much-awaited latex mattress from Amerisleep. Amerisleep already has some models preferred by people with back pain but there was none for the ever-growing demand for Latex as an option.
It is a 13" mattress with all organic materials. The mattress cover is made with organic cotton and a layer of Joma wool from New Zealand. It uses natural Talalay for better contouring and pain relief. The base of the mattress has pocketed coil system for improved motion isolation and back support.
It is capable of providing comfort to all sleeper types including combination sleepers. It is devoid of any harmful materials and is certified by GOTS, OEKO-TEK, the Rainforest Alliance, and eco-INSTITUT.
Read Our complete review of Amerisleep Organic Organica Latex Mattress.
Why it is on our list?
It is one of the most capable hybrid mattresses that is hardly been talked about. With people getting tired of trying many mattresses in the trial period, most tend to like hybrid options.
A latex hybrid is the best option one can get on the market. It is an organic and eco-friendly mattress that cradles the body and provides support without sinking in feeling, unlike memory foam mattresses. It is a medium-firm mattress that is recommended for back pain.
Do you need a Latex or Memory Foam Mattress for Back Pain?
Budget aside, many people often feel confused about whether a latex or memory foam mattress is better for back pain. It is a misconception that mattress type is the only factor that helps in back-related issues.
For back pain, a firmer mattress is recommended and latex is comparatively firmer than memory foam. But it is important to note that there are premium category memory foams with high density that can be equally capable of making a mattress firm.
Can Latex Mattress cause Back Pain?
It is vital to understand that people who face back problems are mostly related to the comfort layer. It may be too thick and/or soft for your body weight. Hence the alignment of the spine goes for a toss due to sagging.
Picking up the right mattress considering your body weight and shape is of utmost importance.
Issues related to the back can make us second guess our choices related to sleep. A friend on a WhatsApp group or a random person in an online forum may share that they had issues with their latex mattress related to back pain. Everyone is different and has specific needs.
Related FAQs
Related Articles
References