Disclosure – We rely on reader support to run SleepMattressHQ.com. If you purchase products using our links, we may earn a commission. Click here to read about our process.
Your search for the best latex mattress can get hazy with information load. The mattress type plays a significant role in overall comfort so before we begin one valid question you need to ask is
Should you buy Latex Hybrid Mattress or an All Latex Mattress?
A latex mattress can easily cost you upward of $2000 whereas the best latex hybrid mattress will be almost half the price of all latex mattresses.
The benefits are almost similar but the huge cost difference makes it obvious to pick a latex hybrid mattress.
There aren't many reliable choices among all latex mattresses. Choosing a newly launched expensive all-latex mattress is a risky proposition for many customers.
Latex mattresses have an edge over the popular memory foam mattresses. Latex mattresses are eco-friendly, hypoallergenic, long-lasting, bouncy, breathable, and cool. But all that comes with a premium.
List of Top Latex Mattresses
Nolah Natural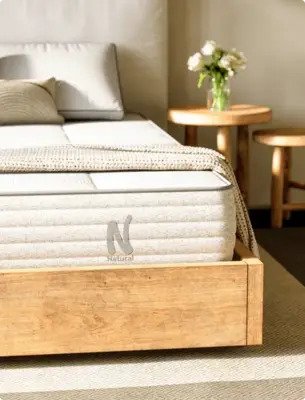 11-inch Natural Talalay Hybrid Latex Mattress.
Organic cotton cover.
Organic wool.
GOTS, OEKO-TEX 100 Class 1, eco-INSTITUT, Rainforest Alliance, and Cradle to Cradle certified
120-nights trial
Lifetime warranty.
It is hypoallergenic with a hybrid design. Nolah comes with an organic cover and has a layer of organic wool beneath. It has a 2-inch natural Talalay latex comfort layer for maximum pressure relief. It is followed by a 1-inch latex transition layer for complete body support.
Nolah has a patented HDMax™ Tri-Zone™ Support Coil System that has three zones for targeted support.
It is medium-firm with good contouring and cradle support that is beneficial in back pain and joint pain. The latex layers provide cushioning around the shoulders and hip area.
Being latex, it is more breathable and help you sleep better and cooler than any other regular hybrid model.
Latex for Less Latex Mattress
Affordable All Natural Latex mattress.
Dual firmness option.
Available in two profiles.
120-night trial.
20-year limited warranty.
Certified by GOTS, Oeko-Tex Standard 100, and Eco-Institut for purity.
It is an all-latex mattress available in 9-inch or 7-inch thickness. It has a soft and certified organic cover with ½ inch natural wool on both sides of the mattress.
It is a flippable mattress with two firmness to choose from. One side has a 2-inch medium-firm 100% natural Talalay making it responsive. The other side is firm and made with 6-inch of 100% natural Dunlop latex. 
It is a good recommendation if you are looking for a latex mattress for back pain. The density of both layers is ideal for people with back issues. The firm latex is 36 ILD, Talalay N2 is 19 ILD, and soft Talalay N1 is 14 ILD.
It is better than hybrid latex models as they are hypoallergenic and antimicrobial in the true sense. It is also suitable for all types of bed foundations.
EcoTerra Hybrid Latex Mattress
Available in Medium and Medium-Firm options.
100% Natural Latex.
Organic Cotton and Wool.
90-days trial and a 15-year warranty.
Buying a latex mattress is considered to be a costly affair but with EcoTeraa you get an eco-friendly quality affordable latex mattress.
It is an 11-inch hybrid latex mattress made in the USA. It has a core made with 8-inch premium encased steel coils topped with 3-inch of natural Talalay latex. Additionally, it has a certified organic cotton cover and a layer of wool.
Who Should Buy?
It will suit most sleepers irrespective of their sleeping positions as it is available in two firmness levels: Medium (5/10) and Medium-firm (6.5/10). Side sleepers with more weight on the shoulder should opt for medium-firm and stomach sleepers may find the medium option more supportive.
It has good edge support and is better in isolating motion transfer when compared to similar mattress types.
Avocado Latex Mattress
Certified Organic Latex Mattress.
All Foam Latex Mattress.
Queen Latex Mattress Under $2000.
Made in the USA.
A latex hybrid mattress has innerspring coils but here is an organic latex mattress for someone who doesn't like that extra bounce.
The avocado latex mattress is an all-foam latex mattress with a 9-inch profile that uses organic material. It has 100% natural organic Dunlop latex certified by GOLS.
The mattress is slightly firm and helps in spinal alignment. It is perfect for stomach sleepers as well as back sleepers. The combination of sleepers is going to love it and is recommended for active couples.
Being an all-foam latex mattress, it provides good motion isolation. The mattress has a convoluted latex that reduces the responsiveness from foam layers.
The latex provides 3-zone targeted support and excellent contouring to your body and reduces pressure points.
The Avocado has an organic latex hybrid mattress but in our review, this all-foam latex mattress scored better.
Brentwood Cedar Natural Luxe Mattress
100% GOTS organic certified mattress.
Hybrid latex mattress.
Medium-firm.
Made in the USA.
Brentwood Home is known for non-toxic mattresses exclusively handmade for superior quality.
Cedar natural luxe mattress is an eco-friendly hybrid latex mattress made with premium 8-inch 5-zone pocketed coils.
It uses GOTS organic certified hand-tufted cotton cover. There are two layers of organic wool certified by GOTS. The 1-inch Alpaca wool is hypoallergenic and wicks the moisture and allows air circulation.
The quilted panels of the mattress have organic cotton batting.
The top layer has GOLS certified organic Dunlop latex that has been cut into 3-zones for targeted support. The zones increase the surface area which helps in better comfort to the legs, back, and shoulders.
The mattress is firmer in feel. There is an option to add an organic latex topper to make it medium-firm.
The firm feel is around 7 out of 10 whereas medium-firm is 6.
It comes with a 25-year warranty and 1 year of the trial period which is more than you need.
Saatva Zenhaven Mattress
100% natural Talalay latex.
Flippable mattress.
20-year warranty.
Hypoallergenic.
Plush medium-firm/ Firm.
Many of us can never be sure of what mattress firmness level works for us. That's where a flippable mattress with dual-firmness options score over others.
Saatva Zehnaven is a hypoallergenic natural mattress. It uses 100% natural Talalay latex with 5-zone support for a firmer feel around the lumbar region.
The top comfort zoned layer is supported by a latex support core that acts as a base layer. The top latex layer is covered with an organic wool layer and quilted organic cotton cover.
The cover is treated with Guardin, a botanical antimicrobial treatment.
The Talalay process allows the latex to hold different firmness levels. The same has been implemented in the mattress in the form of two firmness ie. plush medium-firm and firm on each side. It provides minimal motion transfer.
The Zehnaven has a 180-night home trial and a 20-year warranty but interestingly the latex is not certified by any agency.
PlushBeds: The Botanical Bliss®
Certified Organic Mattress.
Only a 100-night trial.
25-year warranty.
Available in Medium-firm and Firm options.
Botanical Bliss® is an all-latex mattress fully certified by GOTS. This is a great option for people looking for all latex mattresses under $2000.
The PlushBeds are available in three thickness levels of 9″, 10″, and 12″ and an option to choose medium or medium-firm firmness.
It supports all sleeper types and the chosen firmness can be further adjusted by unzipping the cover and rotating the layers.
The mattress is GOLS and Oeko-Tex certified.
Botanical Bliss® is handcrafted in California and is devoid of any heavy metals, chemicals, pesticides, or dyes.
The mattress has a maximum number of certifications and is winning the confidence of many buyers.
WinkBeds EcoCloud Hybrid
Latex Hybrid Mattress.
100% Natural Talalay latex.
Cooling mattress.
Made in the USA.
WindBeds EcoCloud is a hybrid latex mattress certified by OEKO-TEX®. The mattress is made in the USA and uses 100% natural materials.
The hybrid design alleviates pressure and is extremely helpful in back pain. The latex has 5 zones for the targeted distribution of weight.
The EcoCloud uses Talalay latex known to be highly breathable and allows airflow. The latex is conforming and provides contouring to the body that helps in eliminating pressure points.
EcoCloud by WinkBeds has 3-in-1 comfort technology and provides a balanced feel. It gives a lightweight and on-the-cloud feel.
EcoCloud does not use any synthetic foams, fillers, or dyes. It has a dura-tech-approved durability system that makes it less prone to sagging.
The mattress has a 120-night trial and a unique "any reason" guarantee. The Winkbeds provide a 50% off lifetime replacement guarantee.
What you Pay is What you Get in Latex Mattress?
Life can be easier if it always holds. People pay a premium price for latex mattresses. A mattress using synthetic latex cannot command a price point that a natural latex does.
You don't want to buy an expensive or cheap latex mattress and end up regretting it.
It is essential to understand the quality and blend of latex used in the mattress.
Latex is a confusing topic for many. There are lengthy explanations on the web explaining from harvesting to production. Below is the concise information relevant to a mattress buyer without overwhelming and leaving more confused.
When you decide to buy a latex mattress, there is a possibility that latex is made from natural rubber, synthetic rubber or it is a blend of both.
Synthetic rubber is cheap and man-made.
On the other hand, natural rubber is very expensive and is harvested from trees. Further, if the trees are grown without the use of any chemical fertilizers, the natural rubber from such trees is used for organic latex mattresses. The plantations use all organic fertilizers and pesticides.
Most latex mattresses are now organic and are certified by competent authorities. Don't fall from smart marketing gimmicks and pay attention to finer details.
Talalay vs. Dunlop Latex
The latex production process has a significant role in the sleeping experience. Talalay and Dunlop are the two main methods used in latex production.
Choosing Talalay or Dunlop latex has always been a confusing topic for mattress buyers.
The Dunlop process was coined as the original way of producing latex but in the past few years the Talalay process has caught up the fancy.
Like any rubber manufacturing process, in Dunlop, the liquid latex collected from rubber trees is put into molds and heated to remove any moisture.
The mold is filled to the brim thereby producing a large piece of latex. Although the disadvantage is that this big latex is firmer from one side.
On the other hand, the amount of Talalay poured is relatively less so that it fully expands. As an additional step, the air is sucked out of the latex. It results in a porous structure of the latex that makes it breathable.
Talalay is more responsive, bouncy, and softer.
There is always competitiveness among these two types of latex but they are made for individual needs and the buyer is the best judge of which suits better.
Pros & Cons of Latex Mattress
Latex mattresses are arguably the better options in the bedding industry right now.
But even the best of the best have their own set of advantages and disadvantages.
Many foams have been introduced with an open-cell structure for better breathability. Latex scores better on the cooling aspect and is made with natural materials.
Few people are allergic to latex but largely it suits everyone. Latex is a deterrent to dust mites and bed bugs.
The only major disadvantage of latex is pricing. Latex is quite costlier although synthetic blends are cheaper.
Also if you are someone who likes a deep hug from the mattress while sleeping then you should avoid latex and opt for a memory foam mattress.
Latex Mattress vs Memory Foam Mattress
| Latex Mattress | Memory Foam Mattress |
| --- | --- |
| Latex is bouncier. | Memory foam is non-responsive. |
| Latex is firmer. | Memory Foam is softer to medium-firm. |
| Latex provides a sleeping on the mattress feel. | Memory Foam conforms to the body shape. |
| Latex has an open-cell structure and cooler. | It tends to retain body heat unless the top layer comprises a cooling gel. |
| Latex is expensive. | Memory Foam is affordable and the price point is less than half of latex. |
| Latex is more durable and can easily last up to 15-years. | The average life span is 8 years. |
| Most of the Latex mattresses are organic. | Memory foam mattresses can be low in VOC and are not all-natural. |
Sleeping Experience on Latex Mattress
When you are investing in a latex mattress, you know it is going to serve you for years to come.
The durability and long life of a latex mattress are some of the attributes of why it is preferred over other mattresses. But the primary reason to buy should be the comfort and experience it provides after you have tried other mattresses.
Many people graduate to latex mattresses after trying out a few other types of mattresses and toppers.
The balance of comfort and support is what makes the latex mattress stand out. The mattress is conforming but you don't lay deep into the bed. It does not give you a plush feel but rather comfort and pressure relief for a long.
The latex does not sag or lose shape hence the experience lasts way longer than any other bed. It is suitable for all sleeping positions.
The longevity and consistency in the sleeping experience provided by latex beds over the years make them the ideal choice even if it comes at a premium.
It is not financial but the mentally draining experience of buying a bed every few years makes it exhausting for many people.
FAQs
References: