Disclosure – We rely on reader support to run SleepMattressHQ.com. If you purchase products using our links, we may earn a commission. Click here to read about our process.
Basics of Arthritis
Most of us realize the importance of healthy joints only when there is small joint pain and it restricts our mobility and sound sleep. Arthritis is a progressive disorder and condition associated with stiff joints and joint pain.
Osteoarthritis and rheumatoid arthritis are the most common types of arthritis. Many people use the terms arthritis and osteoarthritis interchangeably. There are different types of arthritis namely
Osteoarthritis.
Rheumatoid arthritis.
Ankylosing spondylitis
Gout
Thumb arthritis
Juvenile idiopathic arthritis
Reactive arthritis
Psoriatic arthritis
Septic arthritis
The most common symptoms of arthritis are stiffness in joints, pain, swelling, and mobility issues.
Arthritis is caused by inflammation that gradually leads to the destruction of the joint structure.
Osteoarthritis is caused by damage due to wear and tear of the cartilage of the joint. The cartilage acts as a cushion between the bones, due to damage, the bones begin to grind causing pain.
Rheumatoid arthritis is caused when the synovial membrane gets inflamed. It can also damage the cartilage and bone.
The Hip Joint is a common area that gets affected by inflammatory arthritis. The hip is a ball-socket joint with articular cartilage. This cartilage helps in the smooth movement of the bone in the socket. Hip arthritis is caused when the articular cartilage gets damaged and the bone grinds with the socket.
What is Fibromyalgia?
Fibromyalgia can be confused with arthritis or osteoarthritis as most of the symptoms are similar. The main symptoms are joint pain, muscle pain, and fatigue. Although it is incurable with proper medical care, healthy habits, medication, and regular physical exercise along with stress management one can live close to a normal life.
What causes fibromyalgia is still unclear but generally it is related to how the brain and spinal cord handles the pain signals.
It has been seen that it is more common in women with arthritis combined with anxiety and depression. The pain, in this case, is throughout the body, unlike arthritis where joints are affected.
Mattress Recommendations for Osteoarthritis and Fibromyalgia
Amerisleep AS3
Profile: 12" Thickness
Pressure Relief: 4/5
Sleeps Cool: 4/4
Edge Support: 3/5
Ease of Mobility: 3/5
Ideal For: All Sleepers
The zoned mattresses in the last couple of years have gained popularity among sleepers looking for the best mattress for back pain. Amerisleep uses HIVE technology for targeted zoned support.
It is divided into 5 zones and the HIVE (harnessing intelligent ventilation and energy) layer has hexagonal cores that expand and contract for extra cushioning and support at the shoulder and lumbar regions.
Amerisleep has 5 models with varying firmness levels. AS3 is slightly firm with a soft blend. It suits people with fibromyalgia and arthritis as it provides good contouring. The mattress cradles the body curves and maintains the alignment of the spine.
It is made to last long as the base layer comprises BIO-CORE foam. The plant-based foam has an open-cell structure to keep you cool throughout the night.
It is quite responsive and bounces back to its original shape within 4 secs. So you will never feel stuck in the bed as it is an issue with many all-foam mattresses.
With 20 years warranty and CertiPUR-US certification, it is a feature-rich mattress that enjoys people's admiration.
Layla Hybrid
Layla hybrid is a two-sided mattress with dual firmness. It is best suited for people with arthritis whose firmness needs change. It has one firm while the other is medium soft.
The softer side is more suited for lightweight sleepers as it provides good contouring without the body sinking into the bed. The heavy or overweight sleepers will find pressure points alleviated on the firmer side.
The mattress is cool to sleep on as the comfort layer on both sides is infused with copper. This copper gel also acts as a barrier against any microbial growth.
The core of the mattress is equipped with an advanced coil system. It has individually wrapped coils that provide excellent edge support and firmness.
It comes with a 10-year warranty and 120 nights of the trial period.
Leesa Hybrid
Profile: 11" Thickness
Pressure Relief: 4/5
Sleeps Cool: 3/5
Edge Support: 3/5
Ease of Mobility: 3/5
Ideal For: Stomach Sleepers, Back Sleepers.
The Leesa hybrid is a medium-firm mattress that would suit most sleepers. This is slightly more firm than the popular Leesa Original. For this reason, the hybrid version makes it to our list of the best mattress for osteoarthritis.
The mattress comes with premium foam along with individually wrapped pocket spring coils. That provides support and firmness to the mattress. It also helps in easy moving around the bed or switching positions which can crucial for someone with hip arthritis.
In our review, the mattress scored well in providing pressure relief and restful sleep. It provides adequate bounce and is accurately responsive. The stomach and back sleepers will find the firmness soothing and comfortable.
The top layer has cooling Avena foam that is designed to make you feel cool throughout the night.
Leesa is made in the USA and CertiPUR-US certified. It comes with a 100-night sleep trial period and a 15-year limited warranty.
GhostBed Flex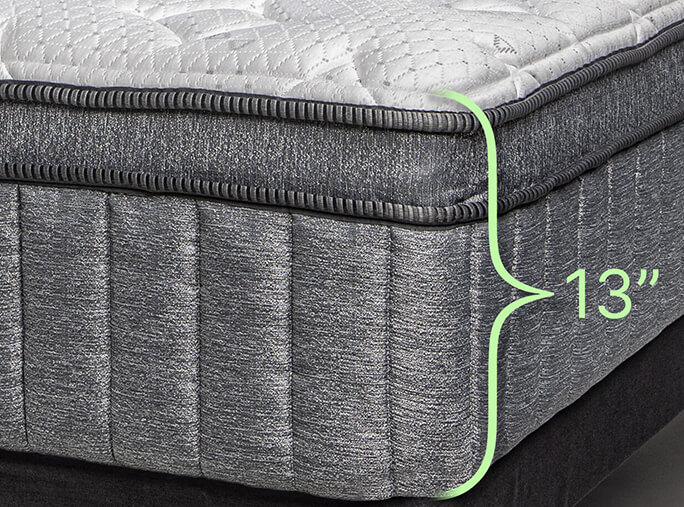 Profile: 13" Thickness
Pressure Relief: 4/5
Sleeps Cool: 3/5
Edge Support: 4/5
Ease of Mobility: 3/5
Ideal For: Side sleepers
GhostBed Flex is a medium-firm mattress with cooling airflow technology and premium supportive coils that form the base of the mattress.
It has a quilted plush cover with three layers of memory foam for comfort and adequate contouring.
This mattress is ideal for someone who is suffering from osteoarthritis. It has 7 layers that provide targeted support for pressure relief. The contouring around the hips and shoulders relieves pain.
It has a 101-night trial period with a 20-year of warranty.
If you are looking for a plush feel but firm support this is the mattress for you.
Nest Bedding Alexander Hybrid
Profile: 13" Thickness
Pressure Relief: 4/5
Sleeps Cool: 3/5
Edge Support: 4/5
Ease of Mobility: 4/5
Ideal For: All Sleepers.
Alexander Hybrid by Nest Bedding is one of our favorite mattress models. The mattress construction is top-notch and built to last longer. It is made in the USA and comes with CertiPUR-US certification.
The hybrid mattress has 16 gauge quantum edge zone pocketed coils with base support foam. The top layer is a hyperelastic, responsive Energex™ Temperature Responsive Foam that allows easy movement. It is a gel-infused memory foam that is effective in making you sleep cool.
Like most hybrids, the mattress becomes an automatic choice for back and stomach sleepers but it will suit all types of sleepers.
It comes with three firmness options but we suggest you choose between medium-firm and lux firm. The medium option is best suited for combination sleepers and side sleepers with average weight.
The lux firm is ideal for someone dealing with hip arthritis or any kind of lumbar pain that requires additional support.
If you are buying a king-size mattress or California king size then the company allows customization so that you can choose dual firmness with an internal split. It is the best mattress for couples where one partner has different firmness needs due to fibromyalgia or arthritis-related issues.
This is the kind of mattress that is best for seniors with arthritis.
It has a 100-night trial period and lifetime warranty.
SpineAlign® Luxury Hybrid™ Mattress
Profile: 13.5" Thickness
Pressure Relief: 4/5
Sleeps Cool: 4/5
Edge Support: 4/5
Ease of Mobility: 4/5
Ideal for All Sleepers.
The mattress has been designed by Dr. Jason Loth and is excellent in pressure point relief for someone who has back issues and joint pain.
It is a 13.5-inch profile with 1.5-inch copper foam as the top layer. The second layer is 2-inch ArcticPhase™. Both the layers help hot sleepers sleep cool. Its base has 8-inch pocketed coils layered with 1-inch memory foam and 1-inch HD base foam.
The hybrid construction will suit all types of sleepers. With dual firmness options, pick the right firmness for proper support. Expectedly, the motion transfer is above average and will not match memory foam mattresses. 
It uses CertiPUR-US certified polyfoams that are safe and non-toxic.
Arthritis Sufferers: Don't Miss these Considerations?
The rheumatoid arthritis awareness day is celebrated every year on the 2nd of February. As per the latest data released for 2022, there are around 1.5 million cases of rheumatoid arthritis in the US. These numbers will go far beyond your imagination if we add all the individuals suffering from arthritis and other related ailments.
Whether you are suffering from fibromyalgia or osteoarthritis, there are some things you need to consider before buying a new mattress.
Budget:
Pricing is one of the critical factors in the decision-making of buying a new mattress. Although the budget is a personal preference we discourage our readers from buying a cheap mattress.
In a given scenario if someone is suffering from hip arthritis, he needs to understand that he is on for a long haul where one cannot compromise on comfort and support of the spine.
An affordable mattress under $200 may provide support for the short term but may not last long as you may expect.
Additionally, when you are deciding your overall budget for the mattress you need to keep room for add-ons like knee pillows or wedge pillows. These add-ons help in providing required support along with a good mattress.
Firmness
As per reports, the majority of mattress buyers end up with the wrong firmness of the new mattress. Often many people desire a soft mattress while planning for a new mattress. But it is important to understand that the right firmness of the mattress depends on your body weight and body.
A medium-firm mattress is generally recommended to everyone but if you are a lightweight person, a softer mattress will be more appropriate for better support. Similarly, an overweight or bulky person will need a little firmer mattress.
It is essential to understand that the right firmness is one where your body is not sinking into the mattress or lying on the top of the sleeping surface without any contouring.
An ideal firmness should promote spine alignment for better support and comfort.
Mattress Type
The mattress type is another crucial factor in choosing a mattress for someone suffering from joint pain, hip pain, or any other pain related to arthritis or fibromyalgia.
Every mattress type helps in providing its unique firmness and support. The hybrid mattresses have a proven track record of customer satisfaction for people who suffer from arthritis and fibromyalgia.
The hybrid mattress has a comfort layer, generally made with memory foam or latex that helps in adequate contouring and relieves key pressure points. The core of the mattress has an innerspring that provides the right balance of support and responsiveness.
The hybrid mattresses are also convenient for patients as they promote easy mobility getting in and out of the bed.
Depending upon your budget one can pick up a hybrid mattress which latex or memory foam with cooling gel for better temperature regulation.
Role of Sleeping Position in Pain Relief
Very few people can change their sleeping position due to Arthritis pain. But there are always a few changes we can make in our sleeping habits for a restful night's sleep.
The most recommended sleeping positions are sleeping on the back and side sleeping. Understandably, it's not easy to switch to a new sleeping position for everyone so here are some changes you can incorporate into each sleeping position that will help you to sleep better.
Side Sleepers
Side sleeping is considered one of the optimal positions as it promotes spinal alignment. But it can also cause extra pressure on your shoulders and hip area if your mattress lacks support. This is one of the key reasons for hip pain among many sleepers.
For hip arthritis sufferers, it becomes tricky. They need to avoid the side with pain and switch to the other side.
In this sleeping position, you will need a softer mattress but avoid a mattress that allows your shoulders and hips to sink in the mattress as it may strain your body and create pressure points.
It is also important to note that many people with joint pain or fibromyalgia tend to get relief and better sleep when a pillow is placed in between their knees.
Back Sleepers
Many people report that back sleeping helps in sleeping better and reduces pain if you are suffering from arthritis. The pressure points created around the lower back and shoulder area need proper support while you sleep on the back.
A proper spinal alignment can only be maintained if the mattress doesn't sag and your body does not sink into the mattress. A zoned mattress is recommended for back sleepers who are arthritis sufferers.
Opt for a slightly firm mattress so that it supports your lower back effectively.
Stomach Sleepers
The stomach sleeper needs to be more careful as It is difficult to maintain spine neutrality. Most people have moved around the abdomen area hence the lower back is always under the strain.
There are a few things that you can do especially if you are suffering from hip pain due to arthritis. it is recommended that you use a firm mattress so that your abdomen area does not sink into the mattress. Also, you must use a thin pillow to avoid any strain on your neck as it may lead to cervical issues.
Additionally, placing a pillow under the stomach helps in reducing the chronic pain in your lower back as it promotes better spine alignment.
Osteoarthritis vs Arthritis
| | |
| --- | --- |
| It is a degenerative condition caused by the wear and tear of the cartilage in the joints. It is the most common form of arthritis. | It is a generic term for inflammation involving the joints and pain. |
Osteoarthritis vs Rheumatoid Arthritis
| | |
| --- | --- |
| It is caused by the wear and tear of the cartilage in the joints. | It is an auto-immune disease where your own body starts attacking itself. The synovial membrane in joints gets attacked causing pain and stiffness. |
| It begins with affecting individual joints. | It targets your multiple joints. |
| The pain, in this case, can vary from joint to joint. For example, the left knee may experience more pain than the right one. | The pain is more or less the same on both sides of the body. |
| It usually affects larger joints, spine, and hip but can affect hands and fingers as well. | It starts with smaller joints like fingers and hands. It can slowly spread to other bigger joints. |
Rheumatoid Arthritis vs Fibromyalgia
| | |
| --- | --- |
| It is caused when the immune system starts attacking the joint of your own body. | It is a chronic disease, with a high chance in women, where it affects how your brain processes the pain. |
| The pain in this case is more concentrated. | The pain is widespread. |
| It causes significant damage to the joints. | It does not affect your joints. |
Related FAQs