Disclosure – We rely on reader support to run SleepMattressHQ.com. If you purchase products using our links, we may earn a commission. Click here to read about our process.
The stories about waking up in the morning with back pain are not uncommon. Many people with an impulse buying streak end up buying yet another mattress for back pain.
What would you do if your mattress is relatively new? and does it sound like a good decision if it is old but not old enough to show signs of wear and tear?
You can save money by buying a good mattress topper for back pain.
One of the topmost reasons for lower back pain when you wake up in the morning is the lack of support which leads to improper spine alignment.

Susan Miller, SMHQ
This can be an issue even with a new one and it is a myth that the issue is related to the mattress being old.
Fortunately, there are a variety of mattress toppers available that are designed to cater to specific needs with the added advantage of increasing the longevity of the bed.
It may look like the addition of thin layer foam but it changes the entire dimension of how comfortable it can make your existing bed.
Initially many people tend to ignore lower back pain but it can lead to a herniated disk in your lumbar region. This can further lead to sciatica nerve pain. The right mattress topper can align your spine and prevent any such issues.
Read:- Our recommendation for Best Memory Foam Mattress Topper.
Short Reviews of Top Mattress Toppers for Back Pain
Molecule Triple Zone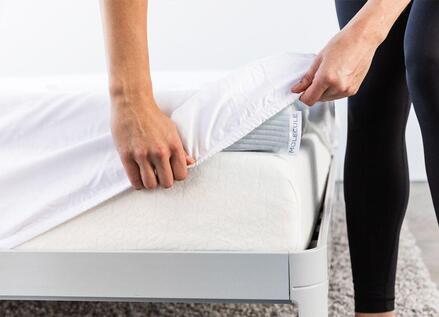 Designed for pressure relief & ideal performance recovery.
Regulates body temperature.
CertiPUR-US© certified foam.
5-Year Limited Warranty.
The Molecule has two models and the Triple Zone has a proven track record as a top performer in pressure relief and recovery.
It has two layers of foam each with a specific goal for optimal performance.
The 1″ top layer is RestoreFLO™, proprietary foam with an open-cell structure for better airflow that dissipates body heat and provides comfortable night sleep. It is infused with gel for moisture and temperature regulation.
The RecoveryFLO™ layer is a three-zone 2″ responsive layer. It has a 3D geometric surface that provides targeted support to the body.
The middle hexagon zones are designed for extra pressure relief and support of the lumbar region. The outer zones at both ends are diamond zones for a softer feel around the head and feet.
This is our top recommendation for the best mattress topper for back pain.
Read:- Complete Molecule Mattress Topper Review.
Latex For Less Latex Topper
100% Natural Latex.
Hypoallergenic.
Certified by Oeko-Tex Standard 100 and Eco-Institut.
5-year warranty.
Made in the USA.
A latex mattress topper is should be one of your top considerations because latex is most supportive for your back and has good heat transfer. Latex For Less comes in two thickness levels of 2-inches and 3-inches.
It is available in three firmness levels soft, medium and medium-firm. With 100% natural latex, it is chemical-free and non-toxic. It is a premium latex for those who cannot compromise on a deep slumber.
In our review, the sleep was relaxing and pressure relieving.
Being latex, expect it to last longer and be extra supportive around the shoulder and lumbar region. The cotton cover is available as an add-on.
ViscoSoft is another popular choice by SMHQ readers. This is the one for you if you are a hot sleeper with backache.
It has a premium high-density gel-infused memory foam that prevents your body to sink into the bed. The foam helps in spinal alignment and alleviates pressure points.
The topper is breathable so that you sleep cool and don't wake up in the middle of the night. In our research, most of the past customers are happy with the comfort levels it provides and helps you wake up feeling fresh.
ViscoSoft is made in the USA brand and offers a 60 day trial period and offers a full refund if you are not satisfied.
Sleep Innovations 4-inch
Sleep Innovations has a unique design and layering. This is 4″ in thickness with 2″ of quilted fiberfill and 2″ of gel memory foam.
This dual-layer gives a unique soft and comfortable sleeping experience. This combination may be uncommon but is extremely supportive for the back.
Please note that it is available in two versions: enhance support and ultrasoft support. Contrary to the enhanced support listed here, the ultrasoft has a different combination of layers. It comes with a 3″ gel memory foam layer and 1″ of fiberfill.
It is hypoallergenic with a pillow top and hence is heavier than most of the similar ones we tested. Plus it is machine washable so throw it in your washing machine without worry.
Linenspa 3 Inch Gel Infused Model
Linenspa is one of the most affordable mattress toppers for back pain without compromising on quality. It is one of the best options for under $100.
It is available in two profiles 2-inch and 3-inch. Both have gel-infused memory foam that conforms to your body. The gel beads help you sleep cool without feeling trapped in the heat.
It is the cheapest way to enhance the sleeping experience without buying a new mattress if you wake up with back issues.
The memory foam aligns the spine and distributes the weight evenly on the bed. It alleviates the pressure points and you will wake up fresh in the morning.
Zinus Green Tea memory foam topper is the hottest selling topper from Zinus. It is available in three profiles of 1.5″, 3″, and 4″.
It uses natural ingredients and has two layers. Zinus Green Tea has 1″ of memory foam layer infused with green tea extracts, plant oil, and charcoal. The other 2″ layer has high-density base foam.
Both the layers combine to give you rejuvenating sleep. The green tea extracts and charcoal as a feature help in absorbing extra moisture so that you feel fresh when you sleep.
The memory foam cradles the body and conforms to the body curves. It helps in providing ample support to the shoulders and hips.
The memory foam has some off-gassing issues usually present in all memory foams. It is completely free from off-gas within 3-4 days.
Pure Green 100% Natural Latex Mattress Topper
When you decided to buy a latex mattress topper, you know you are paying a premium for a restful sleep. Latex is known to be better than memory foam for the kind of support it provides.
Pure Green from Sleep On Latex is exactly what you will expect. It is extremely breathable and more supportive than any premium memory foam topper.
Natural latex provides better comfort in pressure relief as compared to any other latex type.
Hence Pure Green is more relevant to someone suffering from lower back pain or hip pain. It is a notch up higher in providing contouring to your body.
If you are tired of trying to get pain relief and ready to spend extra, we highly recommend this latex topper.
Our Quick Buying Guide
There is no one particular topper that can be recommended for your backache or lumbar pain. Before choosing a mattress topper for back pain, you need to ask a few important questions.
Body Weight Considerations
Let us be honest that there are no one-fit solutions for all sleeping requirements. The role of body weight is always on top of the list for any type of bedding you are buying.
For a heavy person weighing over 230 pounds, the soft mattress may lead to the body sinking into the bed. The contouring and support required will be missing and may result in pain due to wrong spine alignment.
The same soft mattress topper can do wonders for a lightweight sleeper. Due to less weight, the body will not bottom out and the topper will provide good spine support.
Sleeping Position
Your sleeping position is as crucial as your weight. The pressure points can vary with your ideal sleeping position.
A heavy side sleeper will create extra pressure on the shoulders and hip area. A firm mattress topper will not help you in pressure point relief.
Read:- Best Mattress Toppers for Side Sleepers.
Similarly, if you are a back sleeper you will need a medium-density topper for better back support due to better weight distribution.
A stomach sleeper requires a firm top so that the body does not sink in creating pressure on the spine around the lower back area.
Do you need a Firm Mattress Topper for Back Pain?
The firmness has a huge role in providing support to your spine.
A medium-firm is recommended for most sleepers. It tends to provide the right amount of contouring and cradle.
The firmness is dependent on your weight, sleeping position, and the firmness of the mattress underneath.
The firm mattress will require a soft one whereas a soft mattress can be paired with a firm to medium-firm mattress pad.
A firm mattress topper is recommended if you are a stomach sleeper or a back sleeper. It is not recommended for side sleepers.
Which Material Type of Mattress Topper is Best for Back Pain?
Memory Foam
The memory foam mattress is ideal for back pain due to its conforming properties. It is the most common material used on the top layer of many mattresses.
When you wake up with an uneasy back on your existing mattress, it is due to a lack of support and cradle to your back.
Generally, a 2-3 inch memory foam mattress topper is best for back pain. It is responsive and holds the body while you sleep. Most of them are infused with gel to counter heating issues.
Latex
The latex is a better option than memory foam for back-related issues. Memory foam is considered a better option as it has similar properties but at a much lower cost.
Latex is more expensive than memory foam but with heat distribution. Many hot sleepers prefer latex if the budget is not a constraint.
Latex provides a better cradle and is known to be effective for people with lumbar and hip pain. The support provided by Latex is next to the best irrespective of sleeping position.
How much should be the Thickness of the Mattress Topper for Lower Back Pain?
The thickness has a major role in the overall firmness of the topper. It is a common belief that the thicker topper is always better.
It is important to reiterate that the fundamental reason for pain is a lack of a body-conforming bed. So it should be medium-firm with a medium thickness.
Any thin mattress topper ( less than 2-inch) or overtly thick topper going beyond 4-inch should raise your eyebrows.
Type of Back Pain
Any pain in the lumbar regions is commonly referred to as back pain. Before selecting a topper, it is important to understand the type of back pain you are facing when you wake up in the morning.
The hip pain originates from one or both sides of the sockets of your hips. The hip area creates significant pressure points. Pick up a mattress topper for hip pain that is soft, contours, and hips do not sink into the bed without compromising the spinal alignment.
The lower back pain originates due to improper spine alignment. Memory foam and latex are the best options with medium-firm firmness if you sleep on the back.
Side sleepers facing lower hip pain should consider switching to back sleeping. Spine alignment is under continuous stress when you are sleeping on the side.
FAQs
Related Topics