Disclosure – We rely on reader support to run SleepMattressHQ.com. If you purchase products using our links, we may earn a commission. Click here to read about our process.
Before we get into finding the best pillow top mattresses available in 2022. We need to know a few things about them.
This mattress type is known to have a limited life and tends to sag early though they are comfortable. They are a perfect choice for most sleeper types if you are looking for an affordable firm mattress but with a plush softness.
Our Top Recommendations for Best Pillow Top Mattress
We don't want our readers to be overwhelmed with too many options to choose from. Our recommendation is based on the research keeping three factors in mind viz. affordability, the material used, and aesthetics.
Sealy Euro Pillow Top Mattress
We have carefully crafted the list and this is our top pick.
The Sealy are divided into three types Sealy Essential, Sealy Performance, and Sealy Premium. The essential range is a budget-friendly starting range. But Sealy's Performance and Premium collection support POSTURPEDIC TECHNOLOGY ™.
Its innovative POSTURPEDIC TECHNOLOGY™ offers more support to the body. It targets the heaviest part of your body to deliver reinforced support so that your body stays level while you sleep. You will love the sleep-on-top feeling of the bed.
It has three layers that bring in the right balance of comfort and support. 3 inches SealySupport firm foam, SealyCool cooling gel memory foam, and 2 inches SealyCushion air foam. It is an innerspring mattress that uses an encased coil system.
It comes with a ComfortLoft cover which gives you a plush feel. The cover comes with MoistureProtect™. The mattress cover is designed to draw moisture away from your body during the night.
The foams used are CertiPUR-US certified. The company expects you to give some break-in time so that you adjust fully to your new bed. The new product smell of the mattress dissipates in a week or two.
Classic Brands Mercer Cool Gel Memory Foam Mattress
Sale
As the name suggests, it is a hybrid model with layers of wrapped innerspring and gel memory foam. This gel memory foam gives you a cooling effect at the night, especially for those who have a history of heating issues.
The other noticeable highlight of this is the beautiful top knit cover and knit sides which facilitate optimal breathing.
The foams are CertiPUR-US Certified and resistant to bacteria, allergens, and molds. The company offers 100 days of risk-free trial. If you don't like it for any reason, a full refund will be issued.
Dreamfoam Bedding Doze
This is quite a value for money looking at the price range and comfort it provides. It has three different thickness levels crafted carefully to give more comfort and support. It has a zoned foam built-up which provides extra support to the body.
The foam is CertiPUR-US certified. The certification and 10-year warranty ensure extra peace of mind.
Signature Sleep Hybrid Coil Mattress
Signature Sleep as a company has been in this business for the last 50 years. So they have vast experience and confidence in their products. They are known for making durable products.
It stands apart from others for its body to breathe quality. It contains rayon derived from bamboo that absorbs moisture and dries quickly.
The fabric of the cover is quite durable with similar properties. It gives you a dry feel and is excellent in absorbing moisture.
It uses encased innerspring coils which helps in equal distribution of weight which reduces motion transfer. It contours effectively with the curves of the body shape.
The foam is low VOC and CertiPUR-US Certified with flame retardant properties.
Zinus Sleep Master Ultima Comfort Euro Top Mattress
This was launched somewhere at the end of 2011. It is one of the highest sellers from Zinus. It uses iCoil pocketed springs, foam, and fiber quilted euro box top cover. The iCoil technology used in it guarantees a fair amount of motion isolation. Thereby ensuring less disruptive sleep for your partner.
Ultima comfort uses CertiPUR-US certified high-quality foam for better performance over a while.
Why Pillow Top Mattress is for you?
Affordable:

Are you looking for an affordable mattress?
Are you looking for a budget mattress?

If yes, probably a pillow-top mattress is the best bet for you. It doesn't break your bank and is more affordable without much compromising on comfort. In our research, we came across that there are many individuals who look for a firm mattress but with cloud-like softness.
Is this the most comfortable mattress?
No, there are better options available but you need to spend much higher. Looking at the price range of these, they are the best option for the kind of comfort you are getting for your dollars.
Comfort: The padding is generally comprised of normal foam, memory foam, latex, cotton, etc. The variation in pricing is not about brands but also the kind of comfort layers used. You should opt for relevant padding, looking at the kind of softness you need.
Reduces Pain: A lot of people suffer from pain and stiffness after their sleep. It provides good contour support to your shoulder and back. It will help in providing support to your back. For side sleepers, it will keep your shoulders relaxed. Make sure you choose the right padding for you.
Better Stability: It is time for some better sleep if you are upgrading from your usual innerspring or coil mattress. In your old innerspring bed, you might be used to motion transfer and feeling of movement when your partner moves or changes side in bed. Choosing a comfortable soft pillow top mattress will reduce that to a greater extent.
Structure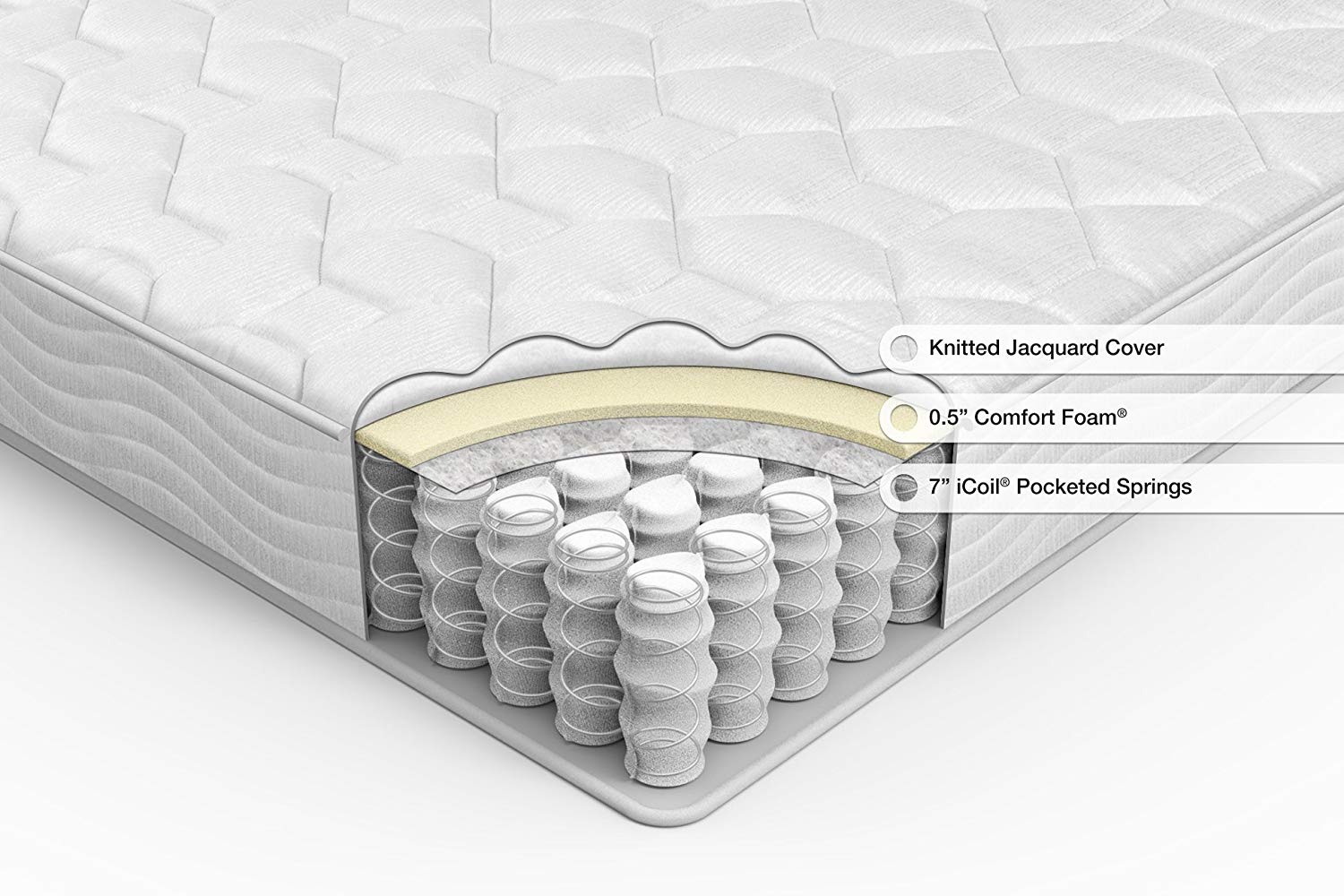 Reasons to Avoid
It is one of the cheapest options in this category. Let us try to list down some reasons why people avoid buying so that you can make an informed decision if you plan to buy one.
Sagging: These are prone to sagging or indentations. Over some time with usage, they tend to take up body shape and indentations become deep. This kind of sagging may cause discomfort on regular use. Although many manufacturers cover the sagging issue in the warranty. But you might face issues while claiming the same if the user does not meet the terms and conditions.
A good decision would be to choose high-quality memory foam or latex in the padding layers. This extra layer will more or less take care of this issue.
Body Heat Retention Issue: This can be a deal-breaker for hot sleepers depending upon your body type and which part of the country you are in. The memory foam used has the inherent property of retaining the heat that leads to poor temperature regulation. It can cause quite a discomfort especially if you sweat a lot. We highly recommend latex or gel memory foam padding which will reduce this to some extent and add some cooling features.
Important Tips to Consider Before Buying
Let us highlight key points to consider when you are selecting your ideal pillow top mattress.
Padding: As they have multi-layered padding so choose a quality layer made up of memory foam, gel foam, viscose foam, latex, etc. Avoid polyester as they have a very limited life and they get hard in a few years. The quality of the padding layers will decide the overall comfort and longevity.
Warranty & Certification: Opt for a model with a good and longer warranty. The longer warranty ensures the quality and faith of the manufacturer in his product. In case of some issues, you are secured for a longer period. Invest in a product with CertiPUR-US certification. The certification ensures that it does not use anything that can be harmful to your health. A certified mattress is peace of mind.
Back Support: The material used has a direct relation to the kind of lumbar support it can provide. Understand the kind of back support you need as you will be using it daily for at least 7 to 8 hours. You need to wake up fresh and free from any strains in the back.
Memory foam is known to sag after a few years but it takes up the body shape easily. It tends to retain heat. So make sure the memory foam used is of high quality.
Latex provides better support as compared to memory foam. The support it provides to pressure points is also rated better than memory foam. Heat retention is minimal in latex.
Polyester is the cheapest option but our recommendation is clear. Avoid!
Aesthetics: This is going to be in your bedroom so it should ooze luxury. This is the reason many customers end up buying Euro Top Mattresses and are ready to shell out a little extra. Check out the quality and patterns of the fabric used. Any cheap fabric or mismatched color tone can spoil the look. The quality of stitching also adds to the overall aesthetics.
Spinal Alignment
Carefully selecting the firmness scale of the mattress is the key to spinal alignment. Select appropriate firmness levels depending upon your favorite sleeping position.
If you are sleeping mostly on the stomach, make sure you choose a more medium-firm option. Choosing a very soft option and the spine will curve away from the natural position. It can lead to stiffness and related pain in the back.
Side sleepers should opt for a softer mattress so that it can take up the shape of the body and shoulders. It will help the spine to be in its natural shape while you are sleeping.
Sleep Quality
People tend to spend thousands of dollars to get the right bed that will give them the best sleep quality.
However, they provide a good sleep initially but the performance tends to come down over a while. It happens due to the factors we discussed above.
Some Frequently Asked Questions By Consumers
What is a Pillow Top Mattress?

It is a firm mattress with layered padding stitched to it. This layered padding on top provides a soft to very soft feel. The padding has a layer of innerspring coils. This extra padding looks like a plush pillow on the top of the mattress hence its name.

What is a Euro Top Mattress?

To put it simply, the euro top mattress is a step-up version of the pillow top mattress. Euro top also has padding but it gives it a single unit feel. The euro tops score better when it comes to aesthetics as the padding is not visible.

Is Pillow Top Mattress recommended for side sleepers?

No, ideally they are related to any particular sleeping style. These are affordable mattresses tuned to make them budget-friendly. But if you opt for a mid-segment or above range, a side sleeper should feel comfortable. Make sure the extra layer of padding used has memory foam with good thickness so that it can adapt to your body form.

What is the difference between Euro Top & Pillow Top Mattresses?

Euro top mattresses are a better version of pillow-top mattresses. Internally the structure is very similar but the euro top is aesthetically different and better. The only difference between the two is the padding style. Euro top padding is part of it and visually looks like a single unit.

Do Pillow Top Mattresses sag?

Relatively speaking, yes they do sag with time. But remember we pay quite less than the other mattress type. So the life span is relatively less than other high-end models. The cheaper it is, the more the chances of sagging.

Should we use a topper for a pillow-top mattress?

No, you should not as itis already has a topper. If your mattress is a few years old now and you are not happy. We will suggest you should replace it with a new one.

How long do Pillow Top Mattresses last?

Ideally, they should last around 5 to 7 years if you buy a good quality mattress with certified foam. As per our research, the certified mattress generally provides a stress-free experience. Lastly, you are expected to flip and rotate your mattress at least once in 3 months.
Final Thoughts
They are already the cheapest hybrid mattress option if you are looking purely into the affordable budget range. They can cost you less than $1000 and up to $1400 in some cases.