Disclosure – We rely on reader support to run SleepMattressHQ.com. If you purchase products using our links, we may earn a commission. Click here to read about our process.
Do you know Tempurpedic founded by Bobby Trussell started as a pillow company? In 1994 when Tempurpedic started selling mattresses, they quickly built up a reputation of being the best mattress for back pain.
Currently, Tempur-pedic is selling 5 models of Tempur-pedic mattresses and the most important question is
"What's the best Tempurpedic mattress for back pain?"
All Tempur-Pedic mattresses are expensive luxurious mattresses and cater to specific needs. Back pain can quickly become a part of your life if the issue is not addressed properly.
There are many reasons for bad back or lower back pain. A mattress lacking ample support or not designed to support your back and lower back pain will not give an adequate recovery for the next day's grind.
One has to consider his body weight and shape before considering any mattress for back pain. This is one of the reasons why a certain mattress may work for a few people but completely miss out on providing any relief to their bad back.
Tempurpedic beds are the best beds money can buy. They are expensive but buying any Tempurpedic mattress for some specific need is not recommended. It is the top reason among those small number of disappointed Tempur buyers.
Many old Tempur-Pedic mattresses have been discontinued and many websites are advising them to buy. A demand from a general-purpose mattress has changed to a mattress that suits individual needs. The current lineup of Tempur-Pedic mattresses is designed to cater to a specific segment of buyers. Below are the latest mattresses from Tempur-Pedic.
Adapt™
ProAdapt™
LuxeAdapt™
Breeze°
Cloud
Today's article is addressed to help you find the best Tempurpedic mattress for back and lower back pain. For readers with back pain, they need a medium-firm mattress with good pressure conforming and support to the lower back region.
We did our extended research among Tempur-Pedic buyers who were initially suffering from back pain and were looking for better lumbar support.
Things to Consider in a Mattress for Back Pain Relief
Avoid using a mattress too soft or too firm. Go for a medium-firm mattress to be on the safe side if you are feeling confused.
Medium-firm mattress ranging from the scale of 4-6 is recommended depending upon body weight.
Check your spine alignment when you lie on your mattress. The muscles holding on to your spine and back need proper recovery time.
Understand your body type. A pear-shaped body will require a little softer mattress to relax the lower back properly. And if you are heavier in weight, you will need a firmer mattress. But the same over-weight person will need a slightly soft mattress if he sleeps on the side.
Value trial period to your advantage. Humans do not adapt to a new mattress easily. And this becomes more important if you are changing mattress type eg: full memory foam mattress to hybrid mattress. Use the mattress for a few days and see if you back adapts to the new mattress. Return the mattress if you wake up with the tired back.
Don't ignore the importance of the right pillow. The wrong pillow can lead to neck and shoulder pain.
We have two recommendations for Tempurpedic mattress based on body type with back pain. Please go through both our recommendations to understand why we have listed two mattresses for a bad back.
[Editor's Pick] for
Best Tempurpedic Mattress for Back Pain
TEMPUR-ProAdapt™ for Bad Back & Lower Back Pain
Tempur-Pedic ProAdapt works for all kinds of body type sleepers with back pain. It is available for three firmness levels. A lightweight body will prefer a softer mattress for better conforming. A heavy person should opt for a firm mattress to avoid sinking into the bed.
The below table will help you with the indicative firmness level that will help you get close to your ideal mattress.
| Body Type | Firmness |
| --- | --- |
| Lightweight Sleeper (< 150lbs) | Soft Firmness |
| Average-weight Sleeper (140-250lbs) | Soft to Medium-Firm |
| Heavyweight Sleeper (>250lbs) | Medium-Firm to Firm |
| Heavyweight Side Sleeper (>250lbs) | Soft to Medium-Firm |
Lightweight sleepers will get better pressure relief in a soft firmness model. The ProAdapt is a goto option for people weighing less than 120lbs. A lightweight sleeper with a heavy midsection can opt for a medium-firm all-foam mattress for better support to the lower back.
For an average-weight sleeper, we will recommend a hybrid mattress with a medium-firm feel. It has the right balance to support and keep the spine aligned throughout the night.
The much-needed support is provided by TEMPUR-APR™ support layer followed by premium spring coils. There is an additional layer of TEMPUR-ES™ comfort layer above the support layer. This combination provides an ideal conforming body needs without compromising on support.
For heavyweight sleepers, a firm mattress is more comfortable. A person above 200lbs generally prefers Medium-firm to Firm mattress. A firm mattress can hold on to extra weight when you sleep on your back. It avoids the body or lower back from sinking. Go for a hybrid mattress for better pressure relief.
Pro-Adapt Soft Recommendation: Who should buy?
We advise you to pick up Pro-Adapt Soft if you are a heavy side sleeper or a combination of back and side sleepers. You may feel adequate support when you sleep on your back on medium-firm but if you change your sleeping position to the side, your shoulders may get sore when you wake up in the morning.
It is also important to note that Tempur Pro-Adapt medium-firm is slightly firmer than a regular medium-firm mattress hence the best option will be to opt for Pro-Adapt Soft in that case as it is not as soft as you may expect.
Finally, It is safe to say that the Pro-Adapt provides good body-conforming support and keeps the spine aligned for restful sleep. No more waking up with the bad back.
Motion Isolation
The ProAdapt scores well on motion isolation. All-foam mattresses are less responsive and help to isolate any motion generated by tossing or turning by your partner. The hybrid model also works effectively to keep motion isolation at bay. Hence motion isolation in Tempur-Pedic ProAdapt is good.
Edge Support
The edge support is above average and holds up well when you sit or sleep on the edge. We did not see any noticeable difference in edge support in the Tempur all-foam and Tempur hybrid model.
Hot Sleepers
The sensitive hot sleepers may find the bed warm as the foam tends to trap the body heat. Although hybrid mattress was marginally better due to good airflow in between foam layers and coils.
The dual cover construction designed to keep the body cool is effective for a couple of hours. But some section of hot sleepers does complain about Tempur-Pedic ProAdapt being warm.
Off-Gassing
We noticed some off-gassing issues in the new generation Pro-Adapt. The issue gets sorted out in a week or two but it can be a problem for people sensitive to odors. We recommend placing the mattress in a well-ventilated room for the first couple of weeks.
TEMPUR-Adapt™
Value for money for Average & Over Weight Sleepers
Sale
We recommend Tempur-Adapt™ for overweight people weighing more than 180lbs if they are looking to save some money without much compromise. They are a few key differences between both the mattresses which we have highlighted in the next section.
Tempur-Adapt is available only in a medium-firm firmness (all-foam & hybrid). If you are a heavy person and looking for a relatively firm mattress, you can opt for an all-foam Tempur-Pedic Adapt. It will cost you around 40% cheaper than Pro-Adapt.
An average-weighted person can choose Adapt hybrid mattress.
TEMPUR-Adapt™ vs. TEMPUR-ProAdapt™
| TEMPUR-Adapt™ | TEMPUR-ProAdapt™ |
| --- | --- |
| 11-inch in thickness. | 12-inch in thickness. |
| Premium knit cool cover. | Washable cool cover with the SmartClimate Dual Cover System. |
| Uses Original TEMPUR™ support layer and TEMPUR-ES™ comfort layer | Uses new age TEMPUR-APR™ support layer and TEMPUR-ES™ comfort layer. |
| Available only in medium firmness. | Available in soft, medium and firm firmness. |
| 40% cheaper than ProAdapt. | Expensive than the Adapt. |
Tempur-Pedic Alternative for Back Pain
Before we begin, you must be wondering there is an alternative to Tempur. There are have been queries by a few of our readers who were pushing their budget because they think it will be a safe option as they were confused about other options.
Well if you belong to this category and yet are not committed to buying any of the above mattresses then this alternative may be worth considering.
Ghostbed 3D Matrix® Mattress
12" Plush Hybrid Mattress.
Saving up to $1000.
Patented 3-dimensional gel layer that adapts for better spine support.
Easily adjusts to your body temperature.
Superior Edge Support.
Bonus points for Side Sleepers and Back Sleepers.
Soy-based and Eco-friendly.
The Ghostbed 3D Matrix is a plush mattress that provides incredible to the back. We tested this mattress on an adjustable bed as well regular bed frame. It scored well on both occasions.
The adjustable bed is recommended if you like to relax on the bed and the goal is not limited to night sleep. Ghostbed as some incredible bed foundations including an adjustable bed frame.
The standout feature is the patented comfort layer with a 3-dimensional gel polymer layer that regulates body temperature and provides ample support to your back. We noticed that tossing and turning was significantly on the lower side. For a hot sleeper with back pain issues, buying this mattress is a no-brainer.
The mattress has 6 layers with a cooling mattress cover. The core of the mattress has individually wrapped coils with edges being made with proprietary Spirited Edge™ support. Further below the 3D matrix layer discussed above is a 2" gel memory foam layer.
The third layer is a Ghost Bounce layer with a unique property of being responsive as a high-quality latex and provides contouring similar to memory foam.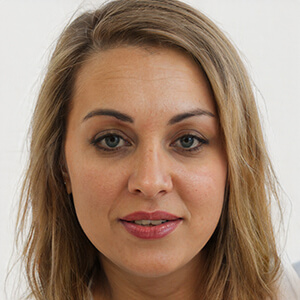 Thank you for suggesting 3D Matrix. It changed my sleeping experience.

Debra Katling, Wisconsin, United States
To enhance the experience of pressure relief and proper weight distribution, there is a layer of Ghost 3D Matrix Soft Transition Foam. Further below the coils is a high-density foam layer for extra support and longer durability.
It is not a Chinese mattress labeled in the US. It is made in the USA and comes with a 101 night trial period and 25 years of warranty.
How it Support your Back?
The 3D matrix polymer layer has a honeycomb-shaped pattern that is effective in absorbing heat and keeping your body temperature cool. In combination with other foam layers, it contours the body to relieve pressure from key pressure point areas.
It keeps your spine aligned in all sleeping positions. The side sleeper has an extreme strain around the shoulder and hip area but the mattress was able to provide good support with the help of the right pillow.
For back sleepers, the mattress scored well in relaxing the back and eliminate any back pain issues
Final Thoughts
The brand Tempur has quite a few options and after reviewing all the mattress we shortlisted the two Tempurpedic mattresses that were effective in providing relief back pain sufferers.
To reiterate, you will end of with a wrong mattress if you misunderstood the importance of a body type, shape and weight while choosing the mattress.
Plus, if you are keen on saving around $1000 we shared a worthy alternative to make it a comprehensive read for our readers so that they can make an informed choice.
Related Topics: